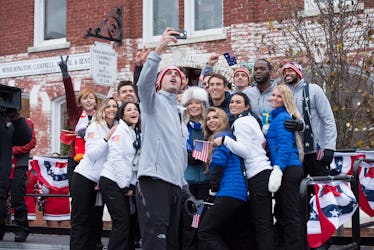 3 Clues That Prove These Couples May Be Together After 'Bachelor Winter Games'
ABC
The Bachelor Winter Games is the latest addition to ABC's reality dating juggernaut. The premiere is less than two weeks away on Feb. 13 and the four-episode series sounds like it will have some refreshing differences from other Bachelor shows. For one, there are sports involved. And while there have been physical match-ups in group dates in the past, athletic challenges are certainly going to bring a new level of competition. Finding romance is also the name of this game, so if you're wondering who's together after Bachelor Winter Games, we don't blame you for being curious. We're happy to watch these Bach-testants ski and ice dance, but we'd all be lying if we said the inevitable hook-ups weren't our main reason for tuning in.
The Bachelor and The Bachelorette have, er, somewhat of a fruitful track record of creating lasting relationships. Trista and Ryan, Ashley and J.P., Sean and Catherine, and most recently Rachel and Brian all come to mind and notable success stories. Bachelor in Paradise produced a love connection-turned-engagement with Taylor and Derek, and Raven and Adam appear to be going strong. Jade and Tanner welcomed their first baby last year and Carly and Evan are expecting. Will Winter Games form another reality relationship to root for? It appears love is already in the air for at least one pair of participants. Here's what we know.
1. Admitting It Upfront
One couple who's trying to go the distance in more than the long jump is Dean Unglert and Lesley Murphy. The Bach alums are both taking part in Winter Games and it seems like things surely heated up during their time in Vermont. Lesley was on Sean Lowe's season of The Bachelor and has not surfaced on reality since, while Dean came in fourth on Rachel Lindsay's Bachelorette stint, and went on to make rocky waves on Bachelor in Paradise. Yes — these two lovebirds are still together — Dean even told Us Weekly just this week that he's "incredibly happy." Dean memorable rubbed Bachelor Nation the wrong way after he was embroiled in a love triangle between Kristina Schulman and Danielle Lombard on last summer's BIP. He explained of his former mistakes,
I had a bad experience on Bachelor in Paradise, but I learned a lot over that experience so it was nice to be able to go on with a new perspective and really be able to focus on how to improve and not be as much of a s—thead as I was the first time around.
So, perhaps the award for Most Improved contestant goes to Dean?
2. Analyzing the Evidence
The promo for the season is on the vague side when it comes to highlighting other blossoming duos, although it does promise: "Winter tears are coming." We get a blink-and-you'll-miss-it glimpse at Lesley as she wraps her legs around Dean, so there's that. It also flashes Ashley Iaconetti on the cusp of a make-out with what looks like Canadian Kevin.
3. Love Triangle?
The promo culminates with her in tears (duh, what else is new?), lamenting "I don't understand why I'm always friend-zoned. I'm just so confused." Ashley has spoken about her time on the show without giving away too much. She recently had fellow contestant Bibiana on her Ben and Ashley I Almost Famous Podcast, and it sure sounds like the ladies were into the same dude during filming. Ben revealed,
You and Ashley had a very... Let's just say this. Winter Games is going to be a lot of fun... There's some great relationships that form. And you and Ashley have a situation that comes up during Winter Games that could have completely destroyed your friendship. But the two of you handled it so well. And to be very vague here, this situation happens in the real world a lot and it often times destroys friendships. But the two of you I think built a relationship around this common interest on Winter Games.
Could Kevin Wendt of The Bachelorette Canada be that common interest? Ashley's super tight with Higgins and is friendly with other Team USA guys, such as Luke Pell. There are five international eligible bachelors on the roster, and the fact that she's kissing one is a surefire clue. Although if she's also sobbing, odds are they didn't take it to the finish line.
One thing with this show is that if you hook up with someone from another team, there's already an issue right there. You don't even live in the same country... It doesn't seem like contestants have made relationships post-filming Instagram official, but maybe once the show premieres? We'll have to wait and see if the international language of love speaks to any of them from the start.