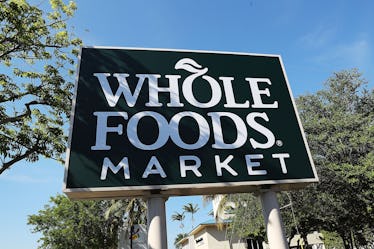 Whole Foods Will Deliver To Your House On Thanksgiving, Just In Time For Dinner
Joe Raedle/Getty Images News/Getty Images
I don't know about you, but surviving one of my giant family Thanksgiving dinners is similar to what I'd imagine running a marathon is like. Leading up to the main meal, you can find me making constant last-minute grocery store runs, while stressed onlookers (mostly my dad) is yelling at me to go faster. Meanwhile, my mom and aunt are both cooking, baking, and cleaning the entire house. Yep — it's just as exhausting as it sounds. This year, though, Whole Foods' Thanksgiving day delivery hours on Amazon Prime Now are extended until 2 p.m., and it's definitely giving everyone something to be thankful for.
In the last year, you've probably taken advantage of some of the Prime-exclusive deals available at Whole Foods, resulting from Amazon's acquisition of the grocery chain. Now, though, the benefits of the acquisition have extended far beyond just a few delightful deals. I, for one, am most excited about the fact that Prime Now is offering one-hour delivery at Whole Foods until 2 p.m. on Thanksgiving Day to all Prime members, according to Business Insider. Yes, you heard that correctly — no more back-and-fourth grocery store runs until dinnertime this Thanksgiving. You can literally order groceries to be delivered to your house, within the hour, until mid-afternoon. If you think about it, this is going to make things so much easier this year, so I, personally, am so relieved.
IDK about you, but I've never felt this stress-free about Thanksgiving — one-hour grocery delivery really comes as a total blessing. And even though last-minute grocery delivery is all fine and dandy, the grocery chain's last minute booze and board game delivery is the best part of it all. That's right — if you live in a few select cities, according to Delish, you could actually have beer, wine, and liquor, and a selection of board games delivered to your doorstep before 2 p.m. on Thanksgiving Day. That, my friends, is the real Thanksgiving miracle. I feel way too blessed to be stressed right now.
Since whipped cream usually ends up being the saving grace of all my Thanksgiving meals, however, I'll definitely be making sure that Whole Foods' Pumpkin Spice Whipped Cream makes it to my last-minute grocery list. Whether you're topping off your pie at the dessert table, or if you're adding a garnish to that after-dinner coffee, this PSL-flavored topping is exactly what every Thanksgiving celebration needs. To be completely honest, this might end up being the entirety of my Thanksgiving meal. No regrets.
If you have a big family like I do, you know that preparing for Thanksgiving can be really, really stressful. Whole Foods' one-hour delivery until 2 p.m. on Thanksgiving Day, however, is really coming in handy. Order last minute supplies, ingredients, and even booze and board games (if your local stores will do that), to make way for the least stressful holiday possible. You'll have exponentially more time to spend the holiday with family as opposed to the grocery store, and I don't know about you, but I, personally, am feeling so much better about the upcoming holiday. So, sit back, relax, and eat literally everything.