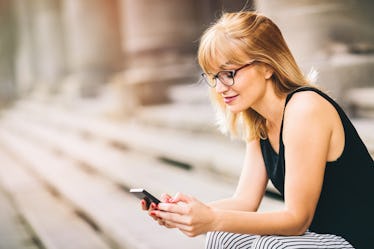 Who You Should Unfollow On Instagram In 2018, Based On Your Zodiac Sign
Milos Vucicevic/Shutterstock
Instagram is meant to be fun, entertaining, spontaneous, and unique... even though many pics that instantly grab our attention are plandids. But, each new year is a time for new beginnings. New Year's Day is the perfect time to cleanse our souls and start anew. That being said, there are people who you should unfollow on Instagram based on your zodiac sign because those people are toying with you in more ways than one.
We all know that our specific zodiac signs have different characteristics, but they also have triggers. You know exactly what I'm talking about. You're scrolling through your feed, and you see that one person doing that very thing that makes your blood boil or rubs you the wrong way, but you continue to follow them. Why do we pledge this subliminal devotion to things that bother us? Beats me.
Let's coin 2018 as the year we reclaim the things we want to digest on the internet. As far as Instagram is concerned, it's time for each zodiac to do some spring cleaning. We don't know what sort of ride this year is going to take us on, but before we buckle up, there are a few peeps that need to be unfollowed on Instagram, according to your zodiac sign.