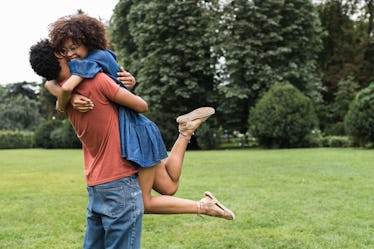 Here's The Person You Need To Date In 2019, Based On Your Zodiac Sign
As New Year's Eve grows closer and closer, you might be finalizing plans for the big night, deciding on an outfit, and stocking up on Champagne. Once all the details are arranged, you might then start daydreaming about all of the wonderful things 2019 holds for you. Maybe you'll start a new job, make a new best friend, or fall in love! Personally, I'm wondering who should I date in 2019, and I think my zodiac sign might be able to give me a hint. After all, my zodiac sign helps me be mindful that I'm prone to jealousy, can carry a grudge like nobody's business, and can be a little too intense at times. Managing my Scorpio tendencies helps me calmly navigate the world, instead of, you know, burning it all down!
Since your zodiac sign can give you insight into your personality, traits, and even certain behaviors, it's helpful to know just what your sign is all about. For example, some signs really enjoy long-term relationships, while others are too busy exploring the world to sleep in the same bed two nights in a row. And while both attitudes towards relationships are perfectly healthy and OK, it can also be healthy to challenge yourself to try new things. So, read on for a suggestion as to who you should date this upcoming year, based on your zodiac sign.