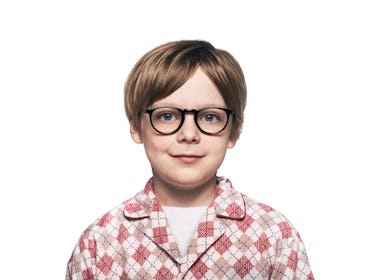 The Star Of 'A Christmas Story Live!' Will Make You Want To Sing For All To Hear
Tommy Garcia/Fox
Most Americans are probably familiar with the holiday classic A Christmas Story by now. The holiday tale throws it back to 1940s suburban Ohio and follows nine-year-old Ralphie Parker, who wants nothing more than to open up a Red Ryder BB Gun present on Christmas Day. So, who plays Ralphie in A Christmas Story Live!? Fox's musical event airs this Sunday, Dec. 17 and will feature a relative newcomer, Andy Walken, in the beloved role.
Peter Billingsley originated the blonde, glasses-sporting Ralphie Parker in the 1983 original with an endearing comic performance that's hard to imagine being portrayed by any other young actor. After a nationwide online casting call that considered 350 applicants for the role of Fox's 2017 Ralphie, Seattle's 11-year-old Andy Walken got the coveted part and will be starring in the live broadcast. Of course, he's adorable as can be and we have no doubt that he'll be doing that iconic pink bunny suit proud. "It's an amazing, exciting thing. It's my first big role," Walken said in an interview for Fox. And, bonus — he's very familiar with the source material even though he was born over 25 years after the film was released. "I've seen A Christmas Story more times than I can count on my fingers. Oh my gosh, I love it!" Aaaaaand we're already melting from how cute these kids are.
Walken only has a handful of acting credits, including a spot on NCIS and the TV movie Escaping Dad. "Finding the perfect Ralphie is a crucial aspect of this telecast. Ralphie is not only the leading character, but the entire reason for the show and the heart of the piece," musical director Ian Eisendrath said in an interview video for Fox that gave insight on the process of casting Ralphie. If you need to warm your cold heart for a few quick seconds, just watch Andy react when he gets the part. His genuine excitement is priceless.
Since Peter Billingsley played the memorable role of Ralphie in the original film, he continued to act, even cameoing in another favorite Christmas classic, 2003's Elf. He also has major career behind the scenes, executive producing TV shows like Sullivan & Son and the movie Four Christmases.
Now it's Andy Walken's turn to make the role Peter originated his own. Walken will join heavy-hitters and musical theater royalty alike for A Christmas Story Live! Matthew Broderick, Maya Rudolph, Jane Krakowski, Chris Diamantopoulos, David Alan Grier, and Ken Juong are all set to appear. But even seasoned actors know that a production like this is a challenge. "I cut my teeth on Saturday Night Live in terms of a live show every week. This is just harder, probably because we're doing a hybrid genre. It's not a regular musical, not stage, not plain-old TV. And we're doing it live," Maya Rudolph explained about the job.
"It's extremely complicated, just trying to get it staged in a way that actors get to the right set at the right time," Matthew Broderick said of the process. But the two-time Tony winner also had some kind words for his young co-star, Andy Walken. "He's very bright and sings beautifully and can dance."
As for the other young actors joining Andy on the live telecast, newcomer Tyler Wladis will step into the role of Ralphie's younger, Randy, and Sacha Carlson will play bully Scut Farkus. You may recognize Artyon Celestine, who's playing Richie, from his dancing days on America's Got Talent.
We're so ready to see this talented cast in action.
A Christmas Story Live! airs at 7 p.m. ET, Sunday, Dec. 17, 2018 on FOX.