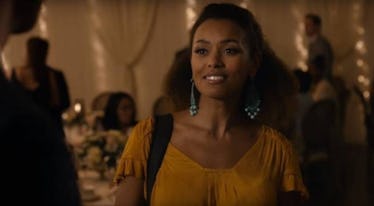 Here's What 'This Is Us' Fans Should Know About Zoe, Because She's A New Key Player
NBC
The Pearsons are back for more sobfests and heartfelt conversations on Season 3 of This Is Us, but the family reunions entail quite a full house this year. Not only is Deja staying with Beth and Randall for now, but Beth's cousin is hanging around as her bond with Kevin deepens. In case your memory of the Season 2 finale is a little foggy, who is Zoe on This Is Us?
First reuniting with Beth to photograph Kate and Toby's wedding, Zoe (Melanie Liburd) is more of a sister to Beth, having grown up in her family home when her own mother was incapable of taking care of her. Obviously relating to Deja because of her unique upbringing, Zoe tried to comfort Deja before the wedding. The younger girl was feeling snubbed after her mom suddenly left her with Beth and Randall rather than sticking out their rough patch together, but Zoe's pep talk didn't exactly help. When we last saw Deja in the Season 2 finale, she was smashing Randall's car with a baseball bat, hinting at underlying anger issues the new season ought to cover in depth.
Zoe's attempts to be the cool mentor were quickly overshadowed by the end of the episode, when the show traveled into the near future to tease what the Big Three were heading towards. Kevin was seen on a plane about to descend to Vietnam, seemingly exploring his father's history there, but in a sweet twist, Zoe sat next to him. The two's airplane cuddling was enough to tell viewers that Zoe's innocent compliment on Kevin's wedding speech leads to far much more between the pair.
Although last season ended with the vibes that Kevin was finally in store for a happy, baggage-free relationship, the ultimate hint that Zoe was important came via real-life news. Over the summer, Liburd was named as a series regular for the third season, confirming that we'll see a lot of her this year. But then again, Alexandra Breckenridge, who played Kevin's ex-wife Sophie, was also named a series regular the previous summer. The actress's pregnancy might have caused the This Is Us writers to change their plans, but seeing as Kevin makes the major leap to Vietnam with Zoe, it looks like they're in it for the long run with each other.
Within the first few minutes of the premiere episode, "Nine Bucks," we learned that Kevin and Zoe hooked up the night of Kate and Toby's wedding, despite Zoe's reservations about upsetting Beth. We all know that Mama Pearson 2.0 has a love-hate relationship with her brother-in-law, but that didn't stop Zoe's connection with Kevin from growing. As the weeks after the wedding passed, the two carried on a secret relationship behind Beth and Randall's back. Of course, everything eventually comes out in the open in the Pearson family, so it's only a matter of time before the rest of the gang discovers the two's shenanigans.
Season 3 of This Is Us continues on Tuesday, Oct. 2, at 9 p.m. ET on NBC.