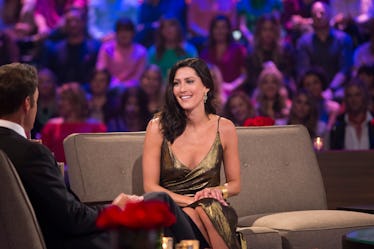 Refresh Your Memory On 'Bachelorette' Becca's Uncle Gary Before Her Season Starts
ABC/Paul Hebert
After months of waiting, Becca Kufrin's season of The Bachelorette is finally here. Twenty-eight guys will be vying for Becca's heart, but before they can get down on one knee and propose, they have to get through a very important obstacle: Becca's Uncle Gary. Who is Uncle Gary, you may ask? Fans first met Uncle Gary during the Arie's hometown date, when the protective father-figure grilled Arie about his intentions. At the time, Becca brushed it off, but clearly, she should have taken her uncle's reservations more seriously, because we all know what went down between Arie and Becca (and Lauren). Before Becca's season of The Bachelorette starts, refresh your memory about Uncle Gary, a man who can definitely tell the future.
Uncle Gary plays a huge role in Becca's life, so it's likely that Bachelor Nation will be seeing much more of him on this season of The Bachelorette. On their first one-on-one date on The Bachelor, Becca told Arie that her father passed away a few years ago from cancer, and in the years since, her Uncle Gary has stepped in as a surrogate father. When Arie asked about her uncle, Becca said, "Uncle Gary is a pastor. He's like a second father figure to me." Becca went on to explain that he's a very religious man and can be overly protective of she and her sister, but only because he loves them so much.
Later in the episode, fans — and Arie — finally got to meet Uncle Gary, and his concern for Becca was so sweet it made my heart melt. "We're her guard dogs. We're her uncles," he told Arie before dropping the ultimate question: "I'm not gonna mess around. Are we wasting time here or is Becca the real deal for you?" Yaaas, Gary, yaaas. Arie assured him that his feelings for Becca were real (ugh), and the two men discussed whether Arie would be willing to go to church with Becca, who has been open about her faith.
Uncle Gary's opinion means a lot to Becca, and the guys on her season of The Bachelorette seem to understand that. In one clip from the Season 14 premiere, Chris, a 30-year-old sales trainer from Orlando, Florida, attempts to appeal to Uncle Gary with a gospel choir. "I know, looking back at your hometown date, that the only way to secure your heart is to win over your Uncle Gary's heart," he tells Becca during their first impression. "You're a smart man," she replies.
Chris then reveals some "friends" who will help him win over Uncle Gary: A full gospel choir singing about God's children and roses. Becca is obviously shocked — it's a bold move — and the next thing you know, she's off talking about "having a choir that can sing as [she] walks down the aisle." Fans will have to wait to see what Uncle Gary thinks about the move, but I have a feeling he'll be into it.
While Chris' first impression move will likely impress Becca's Uncle Gary, the other guys may not fare so well. In a new promo, fans can catch a glimpse of the guys' various first impressions, and some of them are... interesting. One guy rolls up in a mini van, another shoots off a confetti gun (OK, that's kind of awesome), and a third pulls the classic "Fake Get Down On One Knee" move. Seriously, dude? That's a little worn out by now. Oh, and who can forget the guy who shows up in a full-blown chicken suit? Becca laughs it off and asks, "What the...?" because what else can you really do in that situation?
I'm keeping my fingers crossed that we get plenty more Uncle Gary this season on The Bachelorette. Someone has to keep all those guys in check, right?