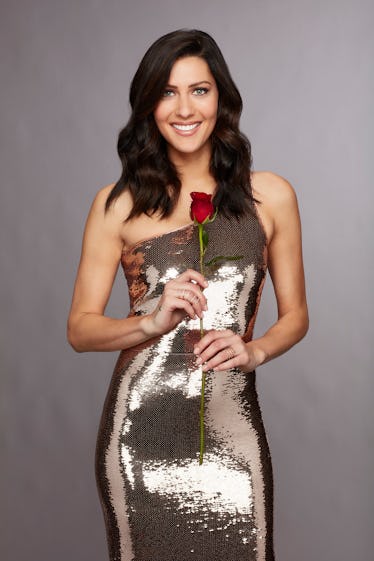 This New 'Bachelorette' Promo Finally Shows Becca's Guys & Yes, One Is In Costume
ABC/Craig Sjodin
It seems like just yesterday that the world watched Bachelor winner Becca Kufrin get broken up with by Arie Luyendyk Jr. in a cringeworthy televised exchange, but now it's almost her turn to dole out roses as the franchise's next leading lady. ABC just a new Bachelorette promo and this one finally gives viewers a sneak peek at those awkward limo entrances. What lengths will Becca's suitors go make a lasting first impression? Well, there's a guy in a chicken suit clucking her name, so that should give you a good idea of the craziness to come.
"The last time I fell in love, I got my heartbroken," Becca says in the opening of the most recent promo for Season 14. Does she really need to remind us? The Arie-Becca-Lauren incident of 2018 is still pretty fresh and that haunting split-screen image will be ingrained in my head forever.
The trailer goes to on to announce that Becca has 28 new contestants to get to know this season and it even offers up some quick glimpses at the men as they make their Malibu mansion debuts. Is that person riding a live bull? Why, yes. Yes, he is.
Here's what viewers can glean about Becca's contestants from these brief flashes: someone pulled the old "get down on one knee" maneuver, another is arriving at the premises on top of what appears to be an actual bull, and there's a person (rocking a man bun) toting a large cardboard cut-out of Arie for some reason. Isn't it best to leave her ex out of this?!
The Bachelor/Bachelorettte intros always include at least one goofball who tries to upstage everyone by wearing or doing something memorably wacky. You may recall Chris Strandburg aka the man who wore a giant cupcake from Kaitlyn Bristowe's season.
Becca's Bachelorette journey isn't going to be an exception in the crazy costumed contestant department. Behold, chicken suit dude — a suitor who decided that dressing like poultry would be the surefire way to fair Becca's heart. Hey, you never know what's going to work in this wild game of love.
Becca might be open to chicken costumes, but she probably won't tolerate unnecessary conflict. "I'm trying to weed out the drama as early as possible. Like, I don't want drama," she revealed to ET about her Bachelorette approach earlier this month. "If there's a guy that's not meshing well with the other guys, I probably won't want to keep him around that long."
That's one way Becca might differ from former fiance Arie, who confessed that issues among the contestants wouldn't necessarily factor in his personal decision-making process. He told Variety prior to his season's premiere:
So, for me, I try to cast aside and really give this person in front of me the benefit of a doubt because it is a difficult experience. It's not an experience everyone handles the same. And just because they're popular in the house doesn't really make them a good life partner.
Bios for the contestants on Becca's season haven't officially been released by ABC, although producer Mike Fleiss promised they would be coming "very soon" and teased via Twitter that the group is the "best bunch of guys we've ever had."
Becca hasn't been making the promotional rounds quite yet, but the initial trailer for Season 22 showed her in all her "independent" glory as she ripped up a heart-shaped picture Arie proposing and proceeded to dance triumphantly to the sweet sounds of Kesha's empowering anthem "Woman." "Let's do the damn thing!" she declares at the end of the clip — a line which will forever be her catchphrase, whether she likes it or not.
Let's do the damn thing, indeed. The Bachelorette premieres Monday, May 28 on ABC.