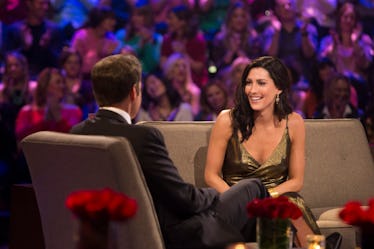 6 Things To Know About 'Bachelorette' Becca's Family
ABC/Paul Hebert
By now, Bachelor Nation knows practically everything about Becca K., the next Bachelorette. Fans were drawn to Becca's laid back vibe from the beginning, and their commitment to the Minnesota native only grew stronger after watching Arie propose to Becca on The Bachelor Season 22 finale... then break up with her and run back to Lauren B., the runner up. Becca was incredibly upset by what happened, but luckily, she has someone she can fall back on when times are tough: her mom. Who is Becca Kufrin's mom? She's one of the kindest, most supportive parents that reality TV has ever seen, and now that Becca will be the next Bachelorette, get ready to see a lot more of her.
Fans first met Jill Kufrin, Becca's mom, during the hometown episode in Week 8. In the episode, Jill was fiercely protective over her daughter (which, as it turned out, was a good thing), and Becca tried to convince her mom that dating Arie was the best thing possible for her. When Becca asked her mom how she felt about the show ending with a proposal, her mom — who maybe can see into the future? — responded with a simple "No." Becca didn't really know how to respond to this, so she let Arie try to charm her family. This didn't really work but it made Becca happy, and The Bachelor producers seemed content to leave the date there.
As it turns out, Jill has good reason to be protective over her daughter: her husband died in 2009 from brain cancer, which Becca revealed to Arie during their first one on one date. In the years since, Jill has taken care of her daughters alone, with a little bit of help from Becca's Uncle Gary, a pastor. Uncle Gary also made an appearance in the hometown episode: He grilled Arie about his motives and whether he would be willing to go to church with Becca, a practicing Christian.
Jill is a retired school teacher, so she knows a thing or two about how to take care of kids. The Kufrin's hometown newspaper, the Prior Lake American, reported that Jill "worked at Grainwood Elementary for 20 years before retiring in 2013." Just few years later, in 2015, Becca revealed that Jill was battling breast cancer, and Becca documented her mom's fight in a sweet Woman Crush Wednesday Instagram post. Becca explained that even though her mom completed "two major surgeries" and "countless appointments with surgeons and oncologists," she is still full of life. "She has shown more strength, grace and positivity than most people will ever have in an entire lifetime. This picture was taken just two days after her initial surgery and captures her spirit radiantly," Becca wrote about the pic.
Now that Jill is healthy, she and Becca love to travel together, spend time with family, and attend local sporting events and concerts. Becca posts countless pics of her mom on her Instagram page, and as with any strong mother-daughter duo, the two aren't afraid to poke a little fun at one another. Jill's Instagram account is private (probably to deal with the craziness that comes with having a Bachelorette in your family), but Becca's is filled with photos and captions making fun of her mom — in a loving way, of course.
In addition to her mom Jill, Becca is also incredibly close with her sister, Emily. By now, pretty much everyone has seen those incredibly cute pics with the corgi, Max, but many fans don't know that Max actually belongs to Emily, not Becca. Becca is waiting around for the right guy before she gets a dog of her own (she does have a cat, though), but in the meantime, she's happy being a dog aunt to the cutest corgi around.
The Bachelorette premieres Monday, May 28 at 8 p.m. on ABC. If Jill Kufrin had thoughts about Arie, I can't wait to hear what she has to say about the dudes Becca brings home next.