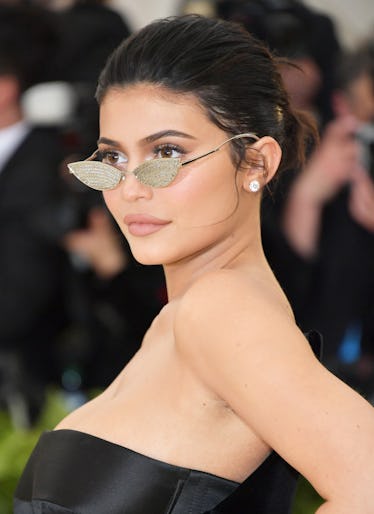 Kylie Jenner Reportedly Shut Down Rumors About Her Bodyguard Being Stormi's Dad
Neilson Barnard/Getty Images Entertainment/Getty Images
Ever since Kylie Jenner first gave birth to daughter Stormi Webster, mad rumors have been circulating that Travis Scott is not actually her dad. C'mon, guys! Can't a little girl live for, like, five minutes without y'all questioning her paternity? First, stories surfaced shortly after Stormi was born that Jenner's ex Tyga thought he was the proud papa. But Tyga quickly shut that speculation down. Now, focus has shifted to someone else in Jenner's orbit. So, who is Tim Chung? He's the lip kit queen's former bodyguard. And according to TMZ, Jenner is so not here for rumors about him being Stormi's dad.
It all started on social media, of course, when fans began to notice the similarities between Stormi's face and Chung's face. Look, I get it — their eyes, noses, and skin tones are all pretty much identical. But according to TMZ's sources, Jenner said it's all just "a rumor with no basis in fact," and that "it's humanly impossible for Chung to be the dad because he never had sex with Kylie." Well, OK then. Elite Daily reached out to Jenner's team about the reports, but did not hear back by the time of publication.
So, for comparison's sake, let's take a look at the evidence, shall we? Here's a picture of Chung:
Yup. He's pretty much straight fire, if I'm being honest. And here's one of Stormi:
What do these two have in common? Well, they both seem to have mastered the whole piercing and intense eye thing. You think that's genetic? Either way, I'm pretty sure Tyra Banks would be proud.
Anyway, it's easy to see why Twitter basically blew up with conspiracy theories about Jenner and Chung. Just check out some of these tweets:
Look, I get that it's fun to make this comparison and everything, but it's also super disrespectful to Jenner, Scott, and poor little baby Stormi, who's going to have to hear all about this crazy speculation one day. So, let's just take Jenner at her word that the baby is Scott's and move on now, OK?
But first, here's one more pic of Chung because he's just so nice to look at:
Meanwhile, Kylie made her first red carpet appearance since giving birth at the 2018 Met Gala on May 7. And you know who was at her side? Scott. The theme this year was Heavenly Bodies: Fashion and the Catholic Imagination, and Jenner pretty much slayed the game in her black cutout gown by Alexander Wang, punctuated with pulled back hair and a pair of tiny studded sunglasses.
YAS, girl! Scott was also decked in an all black look from Alexander Wang, that included some type of cross-body, military-inspired belt thing. "We wanted to go with something more simple, edgy, young," Jenner explained to Vogue on the carpet. "So that's exactly what we did."
I don't know about you guys, but I really, really love this!
The Keeping Up With The Kardashians star also chatted about the fact that this was her first big "parents' night out" with the rapper since Stormi arrived. Watch:
I think it's official, Stormi — you've got the coolest parents ever.
Of course, Jenner wasn't the only family member to turn up at the event. Mama Kris hit up the Met Gala, too. And so did big sisters Kendall and Kim. The latter even joined Kylie for an epic Snapchat video with Ariana Grande:
I can't even with this trio. Have a nice day, I'll just be over here FOMO-ing it up big time.