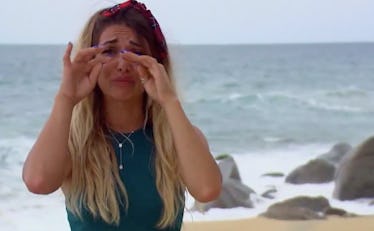 Refresh Your Memory On All Things Shushanna Before 'Bachelor In Paradise' Airs
ABC
Here's a first for Bachelor in Paradise: A witch hunt is apparently a key dramatic element to Season 5. Nope, not a "she's not there for the right reasons" or "he has bad intentions" villain situation. I'm talking about actual witchcraft. According to the latest bombshell-packed trailer for Bachelor in Paradise, one contestant is dealing with accusations that involve the dark arts. Am I the only one confused? And who is Shushanna on Bachelor in Paradise? The Bachelor alum is shaking things up in Mexico.
"Every time I make eye contact with her, it's like this evil stare," Kamil (Becca's season of The Bachelorette) warns in the steamy clip.
"Is she really doing witchcraft?" Annalise (Arie's Bachelor season) asks in the next scene.
Then the promo cuts to Shushanna crying: "Someone told her I'm a witch and I'm going to put a spell on Kamil," while an image of Kamil's headshot in flames is shown burning on the beach.
Um, what is going on here?! This is reality TV, not a reimagining of The Crucible.
"Everyone thinks Shushanna is a witch," Wells comments. "This definitely is a Russian witch hunt."
"First I'm a Russian hooker, then I'm a European trash, now I'm a witch," Shushanna says through tears at one point. Oh, no! It seems safe to say that she did not enjoy her time in Paradise, but perhaps this whole witch business is just an unfortunate fraction of her experience.
Bachelor Nation inititally met Shushanna during her short-lived stint on Ben's season of The Bachelor where she was left during the third week. The Salt Lake City-based mathematician — who originally hails from Uzbekistan — returned for more televised romantic adventures on Season 3 of Bachelor in Paradise. It was there where she actually ended up making a connection with Wells before opting to go home in week 5 because she didn't want to fight for someone, even though that's kind of the concept of the whole franchise, but whatever. Shushanna apparently has no regrets after that fateful choice and is obviously down for round two now that the dust — or is it glitter this season? — has settled. She explained her Season 3 decision to leave prematurely, speaking with Glamour following her Season 3 exit:
The first day I had so much fun and put myself 100 percent out there. Then the next day I woke up and felt like something was going on with me. I want to be honest, I don't care. At some point, I stopped caring what people would think or if they were judging me or that I'm running away from something. I think it had something to do with myself. It took me a whole day to decide that the right thing for me to do would be to just leave.
It also appears that Shushanna has a sense of humor about whatever "witch hunt" transpires in Season 5.
"Whoooo let the witch out," she even captioned an Instagram with the clip from the trailer.
Bachelor in Paradise premieres Tuesday, August 7.