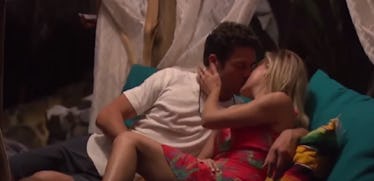 A New 'Bachelor In Paradise' Teaser Is Here & The Drama Is Coming In Hot
ABC
Remember to take a breather when The Bachelorette's After the Final Rose special ends next week, because the drama will reset and perhaps even amplify when Bachelor in Paradise returns on Aug. 7. With the majority of the male cast originating from Becca Kufrin's Bachelorette season, we already know we're in for a crazy summer on the Mexican beach. Thanks to the new Bachelor in Paradise teaser shared during Men Tell All, that craziness is all but confirmed. It's summer on ABC when Paradise tears and fears set in, and the full Season 5 trailer already has me hooked.
Throughout the past few weeks of The Bachelorette, ABC has released snippets of promotional footage for the upcoming Season 5, promising fun on the beach, steamy makeouts, and plenty of animals laughing at humans from their hidey-holes. We got literally just 30 seconds of male model Jordan Kimball, and another promo teased at everything from Wills' reaction shots to Krystal dropping another glitter truth bomb in someone's face. Each year, the Men Tell All taping debuts an even more in-depth trailer, partially to embarrass the cast members scattered on stage and throughout the audience.
In case you couldn't handle the focus on Jordan throughout the Men Tell All, get ready, because you'll need to keep tabs of when he's not on screen in Paradise. Luckily, there appears to be plenty of shenanigans on the sidelines for entertainment if you just can't handle all Jordan all the time. This season of Paradise involves accusations of witchcraft, bartender Wells teaching his cohort Yuki how to say "boom boom room," and Krystal calling the environment "rad." And that was only about the first few seconds of the trailer, so how will I even manage the first few episodes of Season 5? While the new trailer isn't online yet as of Monday night, watching this new footage is quite the emotional ride.
As we know from the Paradise cast list, some random faces are popping up this year, but it looks like they're getting the time to shine in Mexico. Season 14 Night One castoff Kamil is convinced one of the women is casting spells to earn his love, while the queen of childhood traumas, Bachelor Season 22 star Annaliese, sobs quite a few times. The Colton-Tia Bachelorette drama seems to end in tears, while Kendall finds herself in the middle of an ugly love triangle between Grocery Store Joe and Leo with the luscious locks. Additionally, Jenna, a bubbly blond from Arie's season, may fuel extra animosity between Jordan and David, but Jordan's intense standoff with Paradise staple Robby may distract him from that drama.
In other news, in the obligated reminder that Paradise can bring some good into the world, teases of visits from successful franchise couples were included. Former contestants Carly Waddell and Evan Bass and Jade Roper and Tanner Tolbert bring their babies for a Paradise playdate, while Arie Luyendyk Jr. and Lauren Burnham stare into each other's eyes seemingly before realizing cameras are there. Of course, Jared Haibon will also propose to Ashley Iaconetti, hopefully helping any longtime Paradise fans remember why they bother with this each summer.
The crazier, the better for Paradise fans, and their reaction tweets to the trailer prove that the talk around this season is already fiery.
Count me in as a diehard follower of Bachelor in Paradise this year. After all, you can't live up to your Bachelor Nation status without loving to hate it.
Season 5 of Bachelor in Paradise premieres on Tuesday, Aug. 7, at 8 p.m. ET on ABC.