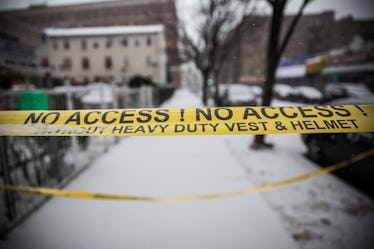 The Killing Of A Black Man In Brooklyn Is Raising Questions About Police Conduct
Andrew Burton/Getty Images News/Getty Images
While the shooting of Stephon Clark continues to prompt questions on the West Coast about police conduct, an incident on the East Coast has now done the same. On Wednesday afternoon, April 4, New York City police officers fatally shot and killed Shaeed Vassell, which resulted in reports of outrage among dozens of people in the Brooklyn neighborhood where the shooting occurred. But who exactly is Shaeed Vassell?
Vassell is a 34-year-old black man and father to a 15-year-old son, who lived in Crown Heights, Brooklyn. His father, Eric, told The New York Times that Vassell had bipolar disorder. At the time of his death on Wednesday, Shaeed Vassell was suspected to have been carrying a gun, but was instead found to have been carrying a metal pipe.
Vassell's death is reported to have stemmed from neighbors' call to police. On Wednesday afternoon, five officers had been responding to three separate 911 calls about a man allegedly threatening people with a silver gun, and the police found a man who matched description, The Times reports. Footage obtained by News 4 New York shows a man in the same area allegedly pointing a silver object at another person.
The search for the suspect resulted in four officers discharging their weapons and firing a total of 10 shots, killing the man, ABC New York reports. During his press conference, Police Chief Terence Monahan said the suspect appeared to have a gun at the time.
"This was not an EDP [emotionally disturbed person] call, this was not an emotionally disturbed call, this was a call of a man pointing what 911 calls people felt was a gun at people on the street," Monahan told media members. "When we encounter him, he turns with what appears to be a gun at the officers. We have to stay straight to the facts of this incident today."
Elite Daily reached out to the New York Police Department for comment on whether any formal charges were made in relation to the shooting, but has not yet received a response.
"The suspect then took a two-handed shooting stance and pointed an object at the approaching officers," Monahan said. Chief Monahan additionally displayed a photo he said was taken of Vassell moments before officers fired, which purportedly shows Vassell facing the officers in the stance described.
Footage from Monahan's press conference can be seen in the video below.
Still, news reports of the shooting featured angry testimonies from members of the Brooklyn neighborhood were Shaeed Vassell lived.
"They didn't say 'freeze, hands up, drop your gun', none of that," one witness, Jaccpot Hinds, alleged while talking to CBS New York. "They didn't say nothing. All they did was start shooting."
Another resident told the news station that Vassell was harmless.
"He's mentally ill but don't mess with anybody," the resident, O'Neil Headley, told CBS New York. "It's very sad because it's a dude from around here and a lot of people love him and he don't mess with anybody."
On Thursday, a day after the shooting, the New York state attorney general's office announced that it will investigate the shooting.
"The Attorney General's Special Investigations and Prosecutions Unit has opened an investigation into the death of Saheed Vassell," press secretary Amy Spitalnick said in a statement, per ABC New York. "We're committed to conducting an independent, comprehensive, and fair investigation."
Meanwhile, Cynthia Nixon, the former Sex and the City star who announced her candidacy for New York's Democratic gubernatorial primary, addressed the shooting on social media.
"Yesterday, Saheed Vassell was shot and killed by police in Brooklyn. When we say we're going to address gun violence that must also include the shootings of unarmed black men and women by the police. #BlackLivesMatter," Nixon tweeted on Thursday.
Nixon's comment about the shooting of Vassell comes at a time when many argue that violence that predominantly affects black people has not adequately featured in national discussion on gun policy.
Meanwhile, the death Saheed Vassell, coupled with the killing of Stephon Clark in Sacramento, means another police shooting that is raising questions about how cops use deadly force.