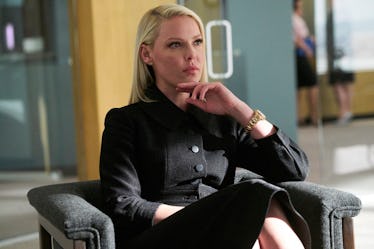 Here's Everything You Should Know About Katherine Heigl's "Fierce" 'Suits' Character
USA Network
In case Meghan Markle appearing on Prince Harry's arm as the new Duchess of Sussex wasn't enough confirmation, the first era of Suits is over, and new actors are officially stepping in to replace original cast members Markle and Patrick J. Adams. Katherine Heigl fills in a new leading role that is sure to be a talking point when Season 8 of Suits premieres this week, so who is Samantha on Suits? Heigl's character is a "fierce" addition to the legal world of Zane Specter Litt.
When Season 8 of Suits premieres on July 18, Heigl will finally debut as Samantha Wheeler, an attorney who comes along with a wave of transition at the law firm following Rachel and Mike's move to Seattle. Samantha is far from the more passive, unsure characters Heigl has played in the past, and speaking to Entertainment Tonight, Heigl said about the character:
I keep hashtagging her #girlwithgumption 'cause she is. She just doesn't take any sh*t and she is not intimidated or afraid of any of these guys, and she has this attitude of 'Well, if this doesn't work, something else will. I always come up with something that will work.' She doesn't let anything [get to] her and she's a little crafty. She's a little underhanded.
Obviously, Harvey won't adjust to losing his best friend Mike easily, and suddenly having to work with Samantha won't exactly help his grieving process. Originally appearing at the firm because of her professional and personal loyalty to Robert Zane, Samantha will initially struggle in getting along with the Specter Litt group, and as Heigl told TV Guide, Samantha "butting heads" with Harvey is key to the season's beginning, telling the publication:
Harvey's one of those guys who sort of demands ultimate loyalty and in order to be loyal to somebody you have to get to know them, right? And I think that having that butting of heads is just so much more dynamic than kind of walking right in and being like everybody's best friend...and [Samantha] definitely comes in butting heads. For sure.
In addition to her manipulative side leading to some twisted truths at the firm, Samantha purposely dons an equally fierce wardrobe, which Heigl fought for in the season's early stages. She told ET:
At one point, the producers were wanting a more lawyer look and I went, 'Are you nuts? No, I want to wear the Dior.' It's been really exciting because we find that middle ground of her being professional but still getting to wear the glory. There's something about the idea of a woman walking into a corporate room or a corporate lawyer's office with all these men and standing out in something beautiful and not trying to fit in by wearing a dark suit. No, make a statement, distract and confuse, and that's part of her strategy.
If there's anything Suits has taught me, it's that lawyers can be the most fashionable people in the world, so here's to Heigl taking a stance for well-dressed lawyers.
Heigl has previously discussed how her own initiative led to her casting on Suits, and that drive seems to have carried over into Samantha's personality. Heigl was merely a fan of the series when she reached out to creator Aaron Korsh about working with her on other projects, but after becoming a cast member, the fear of suddenly being on her favorite show became an area of concern for her.
My biggest fear was coming on and ruining my favorite show by being on it. Like, oh my gosh, am I just gonna completely screw this whole thing that I really like already? But it was too exciting to get to play in a world that I have just been in love with for so many years.
Heigl joins a cast that still includes original actors Gabriel Macht, Sarah Rafferty, and Rick Hoffman, but to further fill the gaps left by Markle and Adams, previously recurring star Dulé Hill will also join the main cast alongside Heigl. The show is taking a distinct step away from its origins, but Samantha sounds like a force that can't be reckoned with.
Season 8 of Suits premieres on Wednesday, July 18, at 9 p.m. ET on USA Network.