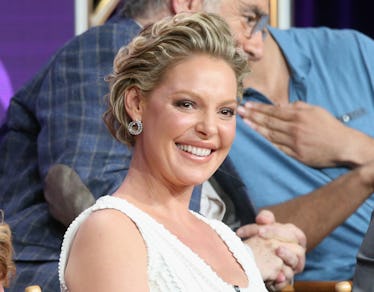 Katherine Heigl Explains How She Got Her 'Suits' Role & It Will Make You Fangirl So Hard
Frederick M. Brown/Getty Images Entertainment/Getty Images
There is less than a week until Meghan Markle is officially no longer an actress and she joins the British royal family, but her longtime show Suits will live on despite the absence of herself and co-star Patrick J. Adams. For the series's upcoming eighth season, Katherine Heigl will join the cast in a new role meant to fill Markle's place, and even though she's probably not joining her co-stars on a trip to the royal wedding, Heigl is already excited to delve into the world of Suits. In case you couldn't tell from Katherine Heigl's Suits casting story, she's still fangirling over the show even as one of its actors, and I'm ready to welcome her to the series with open arms.
At the NBCUniversal Upfront event this week, Heigl told E! News about her love for Suits and how she became involved in its new season. Since she left Grey's Anatomy in 2010, Heigl has appeared as a series regular in two short-lived shows, but coming into the long-running Suits is definitely a good sign of her future on TV. Speaking to E!, she said:
I'm a giant fan of the show, and the actors, and what they do and the stories. So, I get to walk into something I know I already love and it's just been thrilling... my mom and I work together, and she sort of instigated it and said, 'You know, this show is so great.' And I have a couple of shows that I'm trying to develop, and we were like, 'Let's call the creator and see.' We didn't know at that point it was going to go into an eighth season. So when [Suits creator Aaron Korsh] said, 'I'm going to be busy with the eighth season,' I was like, 'Really? Do you need anybody? 'Cause I'm available.' I totally pitched myself.
Count me in as someone who wishes she could casually call showrunners and ask for a spot on their series. Still, Heigl's casting is basically a win for fangirls everywhere, and I'm glad that, with Markle gone, we'll have a true fan dedicated to making new stories on Suits work. When news of her casting broke in January, Heigl released a statement saying:
Joining Suits was the perfect organic way to not only collaborate with an EP I admire deeply, but to also become part of a show and cast that I am an immense fan of. I have watched Suits from the very beginning and feel incredibly lucky to be the newest member of the Pearson Specter Litt family.
According to Variety, Heigl will appear as new law partner Samantha Wheeler, who reportedly "challenges the status quo and will either become the firm's greatest ally or most powerful enemy." She joins longtime cast members Gabriel Macht, Sarah Rafferty, Rick Hoffman, and new regular Dulé Hill, who was promoted from a recurring role to fill former male lead Adams' absence.
The cast has been filming Season 8 since April, and Heigl has already shared a first look at Samantha on her Instagram account. Nothing can truly beat the fierceness of Markle's Rachel Zane, but Samantha Wheeler definitely looks like she'll come close to resembling it.
In an interview with Deadline, creator Aaron Korsh shared some secrets about Season 8, saying:
For season eight, I was reinvigorated and rejuvenated for the possibility of Suits moving forward. The addition of Robert Zane and the dynamics that that does for all of our existing characters I feel like gives new life to the show. Along with him, Katherine Heigl and the interaction she's going to have with everyone in the firm, the two of them coming into our world, it just creates a brand new dynamic that is both organic to the show and really reinvigorating for me as a writer and as a fan of my own show.
Heigl's involvement will definitely insert some fresh air into Suits' new season, which has yet to confirm a premiere date. Until then, can I count on spotting some cast members at Markle and Prince Harry's wedding?