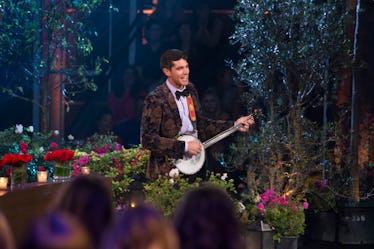 Fans Think This Contestant On Becca's 'Bachelorette' Season Is Wells 2.0 & We're In Love
ABC/Paul Hebert
Unless you've been living under a rock, you probably know that Becca K. is the next Bachelorette. After falling hard for Arie on The Bachelor, only to have him propose and then break her heart, Becca was a shoo-in to become the next Bachelorette, and Bachelor Nation can't wait to see which lucky guy will end up with the 27-year-old Minnesotan. During the After the Final Rose special on March 6, viewers got a chance to meet some of the guys who will be competing for Becca's heart, but one really stood out: Ryan, the banjo-playing hottie. Who is Ryan on The Bachelorette, you may ask? Well, he's the guy who stole Becca's heart right away, becoming the instant frontrunner on The Bachelorette Season 14.
Ryan appeared right in the middle of the five Bachelorette contestants, and his presence couldn't have been more welcome — the first guy, Lincoln, was charming but spoke for about 4 minutes too long, and the second guy, Chase, was a pretty standard Bachelor franchise dude (read: boring). But then Ryan appeared in a velvet jacket with a banjo slung over his shoulder and began singing a totally original song, making Becca, and everyone in Bachelor Nation swoon. His song went a little something like this:
That Becca girl, she is awfully pretty.
Is she a country gal or is she from the city?
As for me, I'm from the sea,
And I'm looking for the one to sail away with me.
Who's that girl over there,
In a jazzy dress with her long brown hair.
Troubles behind, we'll start anew,
I'm looking for a love story, too.
So I ask what's the catch?
Well, there's 25 other cats.
But in due time, you will find,
I'm one of, I'm one of, baby I'm one of a kind.
Can you blame Becca for falling for Ryan immediately? He's basically a Wells 2.0 — remember when Wells brought an a cappella group to his first impression with JoJo Fletcher on Season 12 of The Bachelorette? Ryan seems a little sweeter than the radio DJ, but there's plenty of time for him to show that he's more than just a nice guy with a banjo once Becca's season of The Bachelorette really gets started.
Ryan's promise to Becca that he's "here for the right reasons" won over Bachelor Nation, and many fans immediately took to Twitter to ask why ABC is even bothering with Season 14 of The Bachelorette.
While we don't know much about Ryan (apart from his A-plus banjo skills), we do know one thing: his full name is Ryan Peterson, and according to Newsweek, he works as a landscape designer and contractor in California. After some light stalking, I discovered that his Instagram handle is @ogrp, but unfortunately, the singer is private. Ryan's profile photo is a pic of a sailboat, so he definitely wasn't lying when he said he's looking for someone to "sail away with him." Hopefully, as we get closer to the premiere of The Bachelorette, Ryan will make his Instagram public and give curious fans a sneak peek at his life.
During the After the Final Rose special, Becca told host Chris Harrison that she has "so much love to give," and it's clear that she's really throwing her heart into this season of The Bachelorette. And as Ryan showed us — and Becca, more importantly — he's exactly the kind of funny, laid back guy that the next Bachelorette is looking for. Will Becca and Ryan's chemistry continue past their first banjo-filled interaction? We'll have to wait another two months to find out, but as of now, all signs point to yes.
Season 14 of The Bachelorette premieres Monday, May 28 at 8 p.m. on ABC.