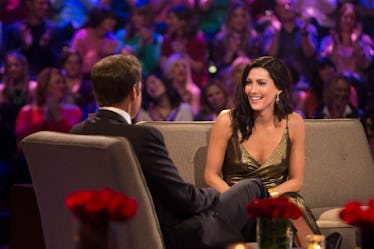 Some Of Becca's 'Bachelorette' Contestants Showed Up & Wow, It's Going To Be A Good Season
ABC
Just when I was calming down from the high of Becca being announced as the next Bachelorette and immediately being embraced by her Bachelor friends, Chris Harrison dropped yet another bombshell on us. As he did prior to Rachel Lindsay's Bachelorette season, he brought out a few of Becca's upcoming contestants to get her (and the rest of us, TBH) hyped for the season. Some of Becca's Bachelorette contestants showed up on set, and I'm officially convinced that Becca is still the true winner of this Bachelor season.
ABC was immediately back in my good favor when the first man out was a guy with an accent. Wearing a bow tie and an adorably charming face, Lincoln applauded Becca for putting herself back out there and embracing love again. Both clearly overwhelmed by the moment, they shared a cute hug, and Lincoln immediately became a fan favorite when he said, "Arie is a wanker."
Where's my passport? Time to find a Lincoln in London!
Keeping up the pattern of melting Becca's heart after one of the toughest nights of her life, the second man, Chase, was also complimentary about her behavior throughout the finale. As sweet as he was, he was quickly overshadowed by the appearance of Ryan or, as I like to call him, Wells 2.0 with a guitar. Ryan sang her a personalized song while managing to pull off what seemed to be a velvet jacket. So, perhaps he's a less smooth Wells?
Fourth man Darius also dragged Arie, apologizing on behalf of the male gender. In a move that only further restored women's faith in men after watching Arie all season, final contestant Blake came out onstage with a horse in tow. As the saying goes, you have to get right back on the horse after falling down, so Blake played the part of the perfect gentleman when he helped Becca hop on his noble steed (no euphemism intended).
In my opinion, while Lincoln wins the night based on personality alone, Becca's select group of contestants seem strongest when presented together. I don't know if her entire Bachelorette cast is solidified yet, but these few exceptions suggested that producers are finally on Becca's side and are trying to make up for that post-breakup middle seat on a plane. Also, Arie (or "Air-eee," as Lincoln said) and Lauren may've gotten engaged, but Becca was clearly the night's real champion.
For a show that doesn't always portray women in the best light, awarding Becca with a cuddle from her ladies and then a group of great-seeming men was a major improvement. It's hard not to be a little skeptical about Bachelor Nation friendships, and for the first time, I finally believed the bonds between these women when the other contestants and Becca squeezed together on the couch. The girls' cheers when Becca greeted some of her men also emphasized just how excited they were to watch her begin this journey (and inevitably hook up with some of her rejects on Paradise).
Twitter agreed about Becca getting the better deal of the night, commenting on her parade of men and how happy she appeared.
One viewer also wondered if the other Bachelor ladies could join Becca during filming, which I wouldn't be opposed to at all.
Move over, Arie, there's a new chick in town! Time to clear our brains of all of this season's racecar driving puns. As someone who loves to gloat about Bachelorettes trumping Bachelors in their Final Rose success rates, I am quite confident that Becca will find an amazing man in the next few weeks.
Season 14 of The Bachelorette, aka Becca's time to shine, premieres on ABC on May 28.