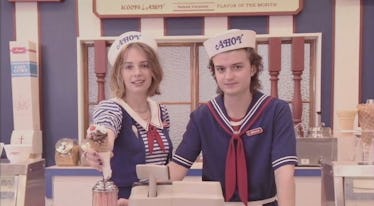 Here's What You Should Know About Steve's New Friend In The 'Stranger Things' Season 3 Promo
Netflix
Stranger Things was not initially expected to be a hit series. But when the first season went viral on the strength of "Justice For Barb," an adorable cast, and a heavy dose of nostalgia, it became the show to get on if you were a 1980s era has-been or a teen actor. Last season saw Sean Astin fill the former role, while Sadie Sink grabbed the latter. This year, the big teen star to join the crew is Maya Hawke, who plays Robin. Who is Robin in Stranger Things Season 3? Fans might also ask "Who is Maya Hawke?"
If her last name and face seem familiar, that's because the former comes from her father, actor Ethan Hawke (Reality Bites, Boyhood) and the latter from her mother, Uma Thurman (Kill Bill). Maya Hawke was last seen on PBS, starring as Jo March in the BBC adaptation of Little Women. Now she's shed the corset and bonnet for an AHOY hat and ice cream scoop at Hawkins' brand new Starcourt Mall.
Hawke joins the older set of teens, which include Joe Keery as Steve, who is apparently her co-worker in frozen dairy goodness. Neither of them looks to be enthused by their placement in the Starcourt Mall ad campaign.
Check it out:
According to Deadline, Hawke is playing a character named Robin.
Hawke's character is described as an alternative girl who is equal parts sharp and playful. Bored with her mundane day job, she just wants a little excitement in her life… and gets more than she bargained for when she uncovers a dark secret in Hawkins.
Most consider the word "alternative" to be more of a 1990s era teen stereotype, like the flannel-wearing guitar strumming guy played by Hawke's father in Reality Bites. (Fun fact: He played Winona Ryder's love interest.) But "alternative" was also a thing in the mid-1980s. Alternative teenagers dressed in a gothy or a post-punk style, which Robin probably does when she's not in her sailor suit uniform packing waffle cones. They also listened to things like early R.E.M. and New Wave music from the UK. (It would not surprise me in the slightest if Robin listens to Joy Division or Siouxsie and the Banshees.)
As the blurb notes, Robin is bored with her day job at Scoops Ahoy! It is not clear if Robin is still in high school and this is merely a summer job, or if she is out of school, and these are the first days of the rest of her life. It's a good chance she is done with school though if she's co-workers with Steve. Fans know Steve was a senior in Season 2, which was set in the fall of 1984. Season 3 is set in the summer of 1985, so he just graduated, probably with no plans to go to college either.
How Robin stumbles upon the Upside Down while bored at the mall is not clear as of yet. Fans will have to wait for Stranger Things Season 3 to find out. If the trailer's "coming next summer" means what it says, that will be next year, in June or July of 2019.