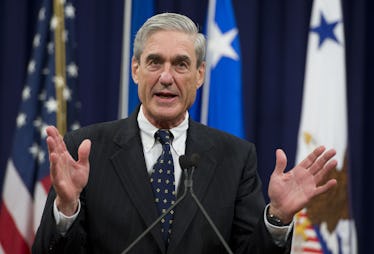 A Trump Associate With A Shady Past Was Charged In The Trump-Russia Investigation
SAUL LOEB/AFP/Getty Images
On Monday, Oct. 30, the special counsel investigation into the possible collusion between the Donald Trump campaign and Russia to influence the 2016 presidential election, led by Robert Mueller, made its first official charges. Paul Manafort and Rick Gates were indicted on 12 charges. Due to Trump's ever-changing campaign and cabinet members, you might be wondering who Rick Gates actually is since he was charged on Monday morning.
Rick Gates is linked to Paul Manafort as his protégé and partner in business dealings, according to the New York Times. While we know a lot less about Gates than Manafort, we know that Gates and Manafort met at a Washington consulting firm when they began lobbying for political candidates.
In the official indictment, Gates and Manafort are described as "unregistered agents of the Government of Ukraine, the Party of Regions," which is a Ukrainian political party that helped elect Victor Yanukovych in 2010. Gates was often Manafort's right-hand guy who flew to Moscow for meetings with the Russian oligarch Oleg Deripaska, according to the Times. Gates' name is also all over Manafort's documents set up in the country of Cyprus as a way for him to allegedly receive foreign money from politicians and businesses in Eastern Europe.
You also might remember Gates' name from the Republican National Convention, when he was reportedly blamed, at first, for plagiarizing Melania Trump's speech from Michelle Obama. At the time of the convention, Gates had the role of deputy convention manager and was in charge of shutting down a "Never Trump" rebellion, among other things, according to the Daily Mail. Gates was initially widely accused for the fiasco of Melania Trump's speech, but was later freed of the scapegoat spotlight when Meredith McIver, a staff writer at the Trump Organization, claimed responsibility.
While Manafort and Gates are both being charged with laundering money in foreign accounts, Manafort, 68, seemed to have enjoyed the lavish wealth and luxury of his foreign money on which he was allegedly not paying taxes. Gates, 45, on the other hand, was in the early stages of reaping the type of multimillion dollar benefits that Manafort was. In 2007, Gates and his wife traded in their $700,000 home in Richmond, Virginia, and took out a $1.5 million loan for a house in one of D.C.'s wealthiest neighborhoods, according to the Times.
"We thought we had a good business model," Mr. Gates said, the Times reported. "We thought we were going to be successful."
Manafort and Gates soon became apart of Trump's close circle of advisers during the the spring of 2016 when Trump turned to Manafort for help, according to the Times. Gates ended up outliving Manafort in Trump's circle, helping him in the wake of the first presidential debate, all the way up to his inauguration. (Manafort left the campaign in August 2016.) Shortly after Trump was elected, Gates was let go because of his prior ties to Russia, in hopes that an investigation, like the one that is happening now, could be avoided, according to the Times.
In response to being booted from the elite group, the Times reported Gates saying,
Everybody has tried to take these instances of anyone in the Trump orbit doing something in Russia, and then fast-forwarding however many years, and then saying it is evidence of collusion with Russia on the election. It's totally ridiculous and without merit.
These are the first indictments in the special investigation, which has been led by Robert Mueller since May 2016. It's unclear what happens next in the midst of the investigation and if anybody will be following in Manafort and Gates' footsteps to charges.