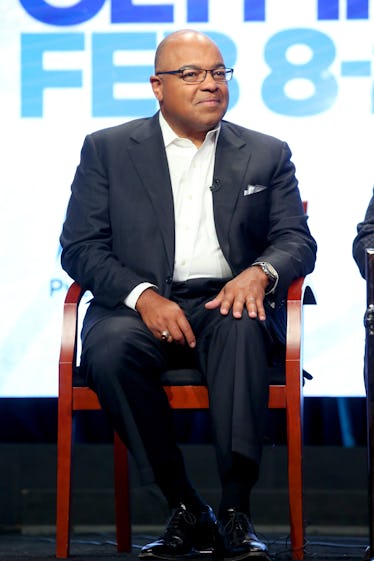 This Sports Veteran Is Hosting The Olympics Opening Ceremony With Katie Couric
Frederick M. Brown/Getty Images Entertainment/Getty Images
Mike Tirico will soon step into the very prominent position as host of NBC's upcoming Winter Olympics coverage. The seasoned TV personality is set to replace an iconic name when it comes to Olympic broadcasting — Bob Costas, who has hosted 11 Olympic Games since 1992. So, who is Mike Tirico? The former NFL announcer is about to be on your radar.
Tirico, a Syracuse grad and Queens native, has an esteemed television history that includes a longtime gig with Monday Night Football. He kicked off his career at SportsCenter and left ESPN in 2016 for NBC Sports. He's covered everything in the athletic arena, from golf to the World Cup to the Triple Crown. He also acted as a studio contributor in 2016's Olympic coverage in Rio, so he's not exactly a stranger to that world. Tirico understands just how huge it is to be front and center at such a powerful event that extends beyond the American landscape. "There's nothing that comes close to that in any of the sports we cover within our country. It's the world. So for me it doesn't compare to anything I've covered before," he told Newsweek about the job ahead. And according to reports, the guy's been brushing up on his luge knowledge.
Tirico appears to have a humble approach to the major role, explaining,
If you watch the games for all of the Olympics, and I've helped viewers understand in some way the who, what, where, and why about it, if I helped them enjoy the viewing experience and connected a few of the disparate worlds that come together at the Olympic Games, then I've done my job.
But Tirico isn't taking this on all by his lonesome. He'll be joining a familiar face at the 2018 Winter Games Opening Ceremony — former Today Show co-host Katie Couric. The fan fave anchor will reunite with NBC in PyeongChang and it sounds like she's pumped for the opportunity. Couric said in a press release,
During my years at NBC, I loved covering the Olympics and showcasing the hard work, dedication and perseverance of athletes from around the world. The Opening Ceremony will be a chance for South Korea to share its culture and customs and for the international community to celebrate this unparalleled display of athletic achievement and sportsmanship. There's nothing quite like it.
Couric also shouted out her co-host Tirico, adding, "I'm also looking forward to working with Mike, who brings a wealth of knowledge and passion to everything he does."
In the midst of the #MeToo movement and an increased awareness of workplace misconduct, Mike Tirico's past has also come up as of late. Tirico was reportedly suspended from ESPN in the early '90s after sexual harassment allegations surfaced. "When we hired Mike in 2016, we were aware of the incidents from more than 25 years ago, which had been addressed in 1991-92 by ESPN, his employer at the time, and for which he has apologized," a rep for NBC maintained in a statement to The Hollywood Reporter. "Mike has repeatedly assured us that this behavior is long in his past, and we have no evidence of anything to the contrary in his tenure at NBC Sports." Elite Daily has also reached out to NBC for comment but did not hear back by the time of publication.
Tirico and Couric aren't the only notable announcers heading to the big games — SNL cast member and Olympics enthusiast extraordinaire Leslie Jones will bring her hilarious talents to South Korea. Jones had a brief stint commentating at the 2016 Summer Games in Rio, but her contribution was unforgettable. Welcome back, Leslie!
Are you feeling the Olympic spirit yet? NBC's primetime coverage of the Olympic Opening Ceremony kicks off Feb. 9 at 8 p.m. ET.
Erin Jackson is an inline skating world medalist and roller derby MVP. She dreamed of skating in the Olympics, but to do that, she had to get on ice. She took her first steps on a long-track course in 2016 and started training professionally in September 2017. Four months later, she qualified for the Olympic Winter Games. Check out Elite Daily Insights' video on Jackson's incredible story: