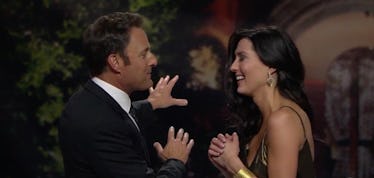 One Of Becca's 'Bachelorette' Contestants Called Arie A "Wanker" & Twitter Is In Love
ABC
If you thought Arie's season of The Bachelor was intense, then your jaw was probably dragging across the floor during After The Final Rose. Not only did Becca confront Arie after he broke her heart on national television, but Arie ended up PROPOSING to Lauren B. in front of everyone. It was wild. Right at the end of the night, Chris Harrison announced Becca would be the next Bachelorette, so fans were able to at least end the season on a happy note. And guess what? We even got to meet a few of her men! Yup, Harrison brought out some of the lucky fellahs! So, who is Lincoln? The Bachelorette contestant had five minutes of television, but he's already a fan-favorite.
Lincoln was the first man to be introduced to Becca on After The Final Rose. It was actually his birthday, so it was a pretty weird (and romantic?) way to spend it. "We've gotta pop some champagne!" Becca said when she learned he was celebrating a big day. It was cute...ish. He was at a loss for words and got pretty emotional about meeting Becca, so it ended up being really sweet! He shared his excitement for going on Becca's journey with her and called Arie a "wanker" which left everyone laughing so hard. OK, LINCOLN.
Next, Becca met Chase. "Look at that face! That is incredible," he told her. "I'm all over the place." Kid was clearly nervous. What an awkward first date. He told Becca his heart goes out to her and he thinks she deserves better than Arie. "When one door closes, another door opens," he told the Bachelorette. That door didn't just close, man. IT WA SLAMMED SHUT AND PEED ON.
Then, a gorgeous man in a bow tie came out playing a banjo. His name is BRYAN, so ladies, write that down. "I've heard many wonderful things about you, and I can't wait to get to know you," he told her. Literally, no one has ever said that about me in my life.
Following Bryan was Darius. "I watched the episode last night and I'd like to formally apologize on behalf of my gender," he said. LMAO, this is why I'm dating a woman. After he made some jokes and got the audience laughing, he told Becca, "The audience is great and everything, to make friends is great, but I'm here for you." He clearly already loves her.
The next man literally brought a HORSE INTO THE STUDIO. A REAL LIFE HORSE. Bro, you gotta chill. His name is Blake by the way. (Figured.) His horse is named Bradley. (Duh.) "I want you to know how incredibly brave you are standing here," he told the Bachelorette. He then said some sweet sh*t about getting her back on a horse after she fell off. Everyone cheered. Bradley probably had to take a dumb.
In the end, it looks like Twitter loved Lincoln the most... and rightfully so! Kid was bold to use such aggressive language on night one. On top of that, fans are feelin' that sexy accent. Ow owwwww.
So, when will fans get to meet the rest of Becca's men? At the end of After The Final Rose, Chris Harrison announced the new season of The Bachelorette would start on May 28. MAY 28. You mean I have to wait like three whole months until I find out who Becca picks? What will I do in the meantime? Stalk Arie and Lauren B.'s romantic getaway on Insta?
For real though, thank the lord this season is done. I want my Monday and Tuesday nights back.