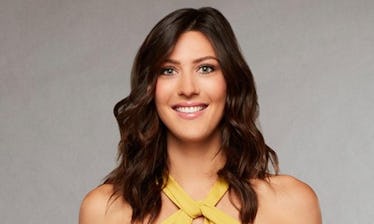 This Dress That Becca K. Wore May Be A Huge Clue She's The Next 'Bachelorette' – UPDATE
ABC
By now, you probably already know about the trainwreck that was The Bachelor finale. But amidst the shock of Arie dumping Becca, the cringeworthy split-screen footage, and the sympathy pains for Becca as she showed up to the After The Final Rose taping alone, we all missed a clue that Becca will be The Bachelorette.
UPDATE: During the After The Final Rose special on Tuesday, Mar. 6, Becca was announced as the Bachelorette.
In case you haven't caught the entire finale breakdown, here is my quick CliffsNotes version. Full disclosure: I've never seen an episode of The Bachelor (or even The Bachelorette, for that matter), but the drama that has ensued over the past 24 hours has been enough to keep me intrigued for hours of recap videos, season clips, and online conspiracy theories. Here's what I learned in my crash course of The Bachelor Season 22 (there are 22 seasons!?) finale.
Arie, The Bachelor, (who's basically race car-driver royalty) proposed to contestant Becca K. (like, down on one knee in Peru, with a Neil Lane-designed engagement ring, very much a legit and mildly romantic proposal), but before they could even have an engagement party, Arie broke up with Becca...on TV...with a weird dual-camera split screen view of each of them (you know, so we wouldn't miss even a second of either of their reactions). And what was his reason? He is still in love with runner-up contestant Lauren, the woman he had just dumped (also on national television) right before he proposed to Becca.
I watched Becca's face as she tried to digest everything Arie had to say, including how he "wanted to see if [it] was a possibility" to get back with Lauren, and she was calmly boiling. Arie stated he's only half in it with Becca (ouch!), and Becca asked if he's going to be half in it with Lauren, but Arie responded, "No, I want to give it a shot." OMG! Stop! That was so outright rude and I totally feel for the girl, even though I've only invested mere hours into this painful love triangle.
Even Ellen DeGeneres had a WTF moment. All she said was, "you guys," but I feel you girl!
To make matters worse, poor Becca had to show up completely stag to the taping of the recap show After The Final Rose, which will continue tonight as she faces both Lauren and Arie face-to-face. I mean, seriously? Can't she bring a plus-one to this sort of thing?
But like a champ, Becca picked herself up, dressed up, and showed up. And just like any heartbroken (and frankly, pissed-off) woman would do, she wore a white low-cut mini dress that showed off her beautiful sun-kissed skin (is that still from Peru?). All everyone could think was how great she looked, and how we're so over Arie right now. However, a thread on Reddit was singing a completely different (and super intriguing) tune. According to the thread, die-hard fans of The Bachelor are theorizing that her white revenge dress was more than just a pretty look — in fact, it's a clue that she will be the next Bachelorette.
"I literally feel like a detective reading the bachelor reddit and finding out that Becca may be the next bachelorette because her dress last night was Randi Rahm," Elana Rubin wrote on Twitter, which summarizes the sentiments of most Bachelor stans. In case you're feeling slightly lost here, Randi Rahm is the same designer that dresses all Bachelorettes, including Jojo, Kaitlyn, and Rachel on their seasons. How. Curious.
Because Becca was decked out in the Bachelorette-approved designer, fans are already anticipating that the 27 year-old will have her own season to find her true love. "All I know is- if #becca isn't the next #Bachelorette I will never ever ever watch this damn show," tweeted one user, while another wrote, "If you're not #TeamBecca for #TheBachelorette after this then I don't know what show you've been watching. #TheBachelor."
I say, the woman deserves a chance to find love (real love, not lukewarm feelings from a guy that agreed to break her heart with a camera pointed directly at her); and the opportunity to redeem herself on national television. Becca has that whole independent, funny, charming, clever personality that rivals that of OG Bachelorettes like Gillian and Ali, and we already know she wears Randi Rahm dresses beautifully.
I rest my case.