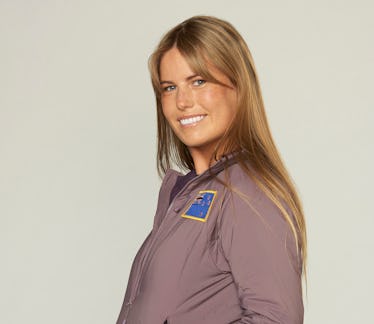 This 'Bachelor Winter Games' Contestant Is Younger Than Bekah & That's Totally Fine
Folks, hold on to your parasols and monocles, because Bekah M. is no longer the baby of Bachelor Nation. While she may hold the title of one of the franchise's youngest American contestants, she doesn't hold a match to two women on The Bachelor Winter Games. Yuki Kimura of Japan enters the games as a 21-year-old, but she's not alone. Lily McManus, reigning from New Zealand, is also a 21-year-old contestant, and just like with Yuki, I have so many questions about how people this young end up on The Bachelor. To start off, who is Lily on Bachelor Winter Games?
Lily comes to Winter Games from Season 3 of The Bachelor New Zealand, which has aired since 2015. If you thought she was young now, prepare to think that Bekah is infinitely more mature than you initially believed. Lily was only 20 years old when she competed for the heart of 28-year-old Bachelor Zac Franich, who was an international competitor in sprint kayaking (New Zealand is clearly a completely different world, guys).
You know what's even crazier? While she was the youngest woman in the competition, she joined three other 21-year-old women and a 22-year-old woman in a 22-person cast. Looking at this cast list, I just feel bad for that one 31-year-old who had to live with girls literally more than a decade younger than her.
Working as a snowboard instructor before joining The Bachelor, Australian native Lily seemed like a natural fit for lifeguard Zac. The pair's individual achievements in sports must have helped them bond, as Lily finished in second place by the end of the season. 22-year-old Viarni Bright ended up with Zac, but the two were broken up by November 2017, only a few months after their season finale aired.
Lily described her Bachelor experience on New Zealand TV, telling reporters:
At first, I didn't think [going on the show] was a good idea and I didn't really want to go on the show, but now looking back at it, it's just been amazing. It's not even... all about Zac himself, it's about all that you do and all that you learn and all the friendships you make and the family you make with the crew.
It seems that getting engaged by the end of the show was never Lily's main goal, and her cast bio does suggest that she loves to chase a new adventure:
Self-proclaimed adrenaline junkie, snowboard instructor and barista Lily is the wild child of the group whose hobbies include 'stuff that goes fast and that makes me feel like I might die.' She spent a year living in Cambodia when she was growing up and has a passion for traveling. Upon being accepted to be on the show the advice her family gave her was to 'swear less.' A deal breaker for her in a relationship would be someone who hates animals.
In her abbreviated contestant questionnaire, Lily admitted that she was "guilty of making a mixtape" as a romantic gesture. Honey, you're 21 —everybody knows that you've only ever made a digital playlist.
If you've kept up on Bekah M.'s missing person drama, you know that her mom was the one to file the report when she hadn't heard from Bekah in awhile. Miscommunication is also a bit of an issue with Lily and her mom, who signed her daughter up for The Bachelor without telling her. Speaking to the New Zealand Herald, Lily said:
McManus told the Herald on Sunday she only found out she was in the running when a MediaWorks staff member contacted her. 'Then I called my mum and she was like 'Oh sorry I entered you. I didn't actually think you'd get in'... It was quite a weird thing... It was actually very typical of my mother, so I wasn't surprised.' While McManus had reservations about going on the show at first, it turned out mum did know best after all. McManus and Franich's bond has grown stronger in recent weeks on the show. 'She was like 'I think you'd like this kind of experience' and she was right - I've bloody loved it.'
Gotta love moms for getting us out of our comfort zones.
Lily's Bachelor New Zealand castmate Ally Thompson will join her at Winter Games, along with Season 2 Bachelor Jordan Mauger. I don't know about you, but I think the possibility of Lily ending up with a Bachelor that wasn't hers to begin with sounds too good to be true. We can also look forward to Lily showing off her snowboarding skills and possibly winning a date because of them.
The Bachelor Winter Games premieres on Tuesday, Feb. 13 at 8 p.m. ET on ABC.