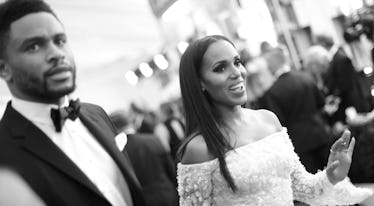 Kerry Washington & Nnamdi Asomugha Low-Key Have The Cutest Relationship In Hollywood
Charley Gallay/Getty Images
Even though Kerry Washington loves social media, she tends to keep her personal life private for the most part. In particular, Washington's husband of four years rarely makes an appearance on her Instagram, which has prompted fans to wonder: who is Kerry Washington's husband? Somehow, Kerry Washington and Nnamdi Asomugha manage to keep their relationship out of the public eye for the most part, but when we do get to see them together, they are the absolute definition of couple goals.
Nnamdi Asomugha is best known as a professional football player. He was in the NFL from 2003 to 2013, spending the bulk of his time as a cornerback for the Oakland Raiders, and then his last couple of years with the Philadelphia Eagles and finally the San Francisco 49ers. He was the MVP for the Raiders twice (in 2006 and 2008) and was selected for the Pro Bowl three times. Asomugha actually began dating Kerry Washington while he was still in the NFL. The pair began their relationship in 2012, and Asomugha officially retired from pro football at the very end of 2013. In the summer of 2013, Washington and Asomugha got married in a private ceremony.
But football isn't Nnamdi Asomugha's only passion — he began focusing on his acting and producing talents much more after announcing his retirement from the NFL. Asomugha took some guest roles on TV shows including Friday Night Lights, The Game, and Leverage while he was still an NFL cornerback, but his star power has really been on the rise in Hollywood in the past couple of years. In 2015, he executive produced Beasts of No Nation, Netflix's celebrated war drama that starred Idris Elba, and last year he acted with Sally Field in the quirky indie Hello, My Name Is Doris. But his big break came earlier in 2017, when he starred in and produced the biographical drama Crown Heights, a Sundance breakout that went on to earn Asomugha Best Supporting Actor nominations at the Independent Spirit Awards and the NAACP Image Awards.
But even though Nnamdi Asomugha and Kerry Washington are both actors, the couple still has yet to co-star together on a project. Maybe that will be more of a possibility now that Washington's longtime TV gig, Scandal, is ending after its current season, and Asomugha is becoming a more recognized name in the film industry thanks to the success of Crown Heights.
For right now, though, it seems like Nnamdi Asomugha and Kerry Washington are happy with keeping their work lives separate from their home life. There were only two times that their relationship did become a small cause for concern among TV fans, and those were Washington's two pregnancies. In 2013, Washington announced that she was pregnant with her first child, and since she is basically always filming Scandal and Olivia Pope wasn't pregnant, ABC trimmed Season 3 down by a few episodes. In May of 2014, Washington gave birth to her and Asomugha's daughter, Isabelle. When Washington got pregnant again in 2016, ABC once again trimmed Season 6 of Scandal down by a few episodes to accommodate the star. Washington and Asomugha's son, Caleb, was born at the end of 2016.
Although Nnamdi Asomugha and Kerry Washington don't post many pictures with one another themselves, it's always fun to see how adorable the couple is when they go to events together. In May, Asomugha and Washington attended a benefit for the Bronx Children's Museum together, and we got to see some rare pics of the gorgeous couple.
Hopefully we will get to see Nnamdi Asomugha and Kerry Washington again at the Golden Globes, at which Washington will be a presenter.