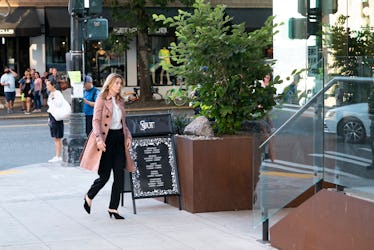 'Grey's Anatomy' Just Introduced A New Love Interest For Meredith
ABC
It took a few installments before Grey's Anatomy got down to business with this year's "Season of Love" theme. But now that Meredith has finally agreed to start considering dating again, and match-maker CeCe has figured out that her new client is an outside-in type of girl, rather than a person who falls in love from the inside-out, Dr. Grey has gotten herself a new wardrobe and a blind date. So, who is John on Grey's Anatomy? Turns out Josh Radnor from How I Met Your Mother plays Meredith's date in the episode "Momma Knows Best."
CeCe's brainwave last week of coming at Meredith from the other direction was genius level. Her client is looking far sexier this season than she has in quite some time. But, unfortunately for her, her blind date isn't going to be the only person who sees her in these new clothes. The result of wearing them to work is that everybody sees her in them, from those Meredith might not care about noticing so much to those she very much minds taking stock of how she's dressed today.
But the work portion of the day was only half of it. Then there was the date itself, which perhaps did not go quite the way fans expected it to.
The reaction at work was exactly what fans expected, with everyone from Link to DeLuca freezing in their tracks upon seeing her in a face full of makeup. (Blessedly, Meredith's assistant Taryn is there to provide proper conclusions for their frozen sentences.) Alex, of course, declares Meredith looks "weird," but fans expected no less.
As for the date, the opening was awkward, as Meredith declared "let's start the clock" upon meeting him. He turns out to be a software engineer for privacy software, but not the type that dresses super casually. As he puts it, it's like wearing pajamas to work. Meredith counters she doesn't wear pajamas to work. But when she tells him she's Chief of Surgery at Grey Sloan, his eyes just pop. "So you're a big deal."
He is less of a big deal, but even though he's in the privacy business, he's not into data mining. "The opposite, actually." Point in favor: He's one of the good guys.
And then, just as Meredith was ready to call work and declare herself busy for the rest of the day, John looked over and realized Meredith wasn't his blind date. He had a picture of the person he was supposed to meet, and she is standing on the other side of the restaurant. She's at the bar with an older, handsome man, who may, in fact, be the real John Meredith was supposed to be meeting. Whoops.
What to do? Meredith and John decide to text the dates they were supposed to meet, who are now standing on the other side of the restaurant looking very cozy. Something unavoidable came up, they won't be making it. Next thing fans knew, they were running out of the restaurant... Could this be the beginning of something beautiful? It might have been until John disparaged single mothers as they walked. Oh, oops.
Meredith has three kids. This is a deal-breaker. It could have been the beginning of something great. John looks devastated as she walks away.