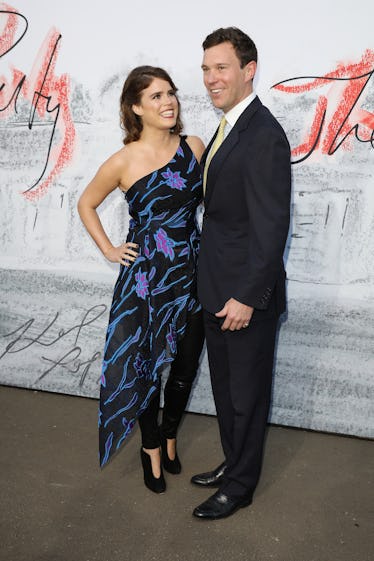 Here's Everything You Should Know About Princess Eugenie's Fiancé Jack Brooksbank
Tim P. Whitby/Getty Images Entertainment/Getty Images
With another royal wedding hot on our heels, it's time to break out our fanciest tea set and put on our fascinators once more (and if you don't have either of those, a baseball cap and a wine glass will absolutely suffice): Princess Eugenie — cousin to Prince William and Prince Harry — got engaged to her longtime boyfriend, Jack Brooksbank, back in January 2018, and planned for a beautiful fall wedding, setting the date for Oct. 12, 2018, at St. George's Chapel, Windsor Castle. While we know plenty about Princess Eugenie (she is royalty, after all), her other half is much lesser known. So, who is Jack Brooksbank? While he isn't exactly a prince, he definitely has some pretty charming qualities.
1. He's a successful businessman in the hospitality industry.
Brooksbank currently works as a wine merchant, but started from somewhat humble beginnings as a waiter. According to Marie Claire, Brooksbank worked at "Chelsea's Admiral Codrington pub and the Markham Inn, where he befriended Eugenie's cousin Prince Harry." (Psst: this is reportedly thought that this is how he met Princess Eugenie!) He then managed Chelsea's Mahiki nightclub, and in 2016, became the UK ambassador of George Clooney and Rande Gerber's Casamigos Tequila. He told Hello! magazine:
I am thrilled to be part of the Casamigos family. It is a very exciting time for the brand in the UK as the consumer mindset of the tequila category is shifting ... I look forward to introducing the Casamigos portfolio to new venues and continuing to build a UK based 'House of Friends' network, helping the brand grow from strength-to-strength.
Totally calling that George and Amal have already gotten their wedding invitation in the mail.
2. He's had dreams of becoming a restaurateur.
Back in 2013, Brooksbank told The Daily Mail that he'd like to own a chain of restaurants — a dream of his since he was a teenager.
"I want to create a chain of pubs," he said. "It has been my dream since I was 18. I have fond memories of Sunday roasts in pubs with log fires, and it's something I want to recreate. I love pubs and often go to my local for a pint."
Cheers to that, mate.
3. His future in-laws approve of him.
It can be tricky getting along with your spouse's family, but Brooksbank doesn't seem to have that issue (which is very fortunate, since they seem like a pretty intimidating family to please). Following the news of Brooksbank and Princess Eugenie's engagement, Prince Andrew said:
Jack is an absolutely outstanding young man and Eugenie and he have got to know each other over a number of years, and I'm really thrilled for them. I'm just completely overjoyed for them and wish them every happiness.
Eugenie's mother, Sarah Ferguson, was also overjoyed to welcome Brooksbank into their family. On Jan. 22, she took to Twitter to express her excitement over her daughter's engagement. She wrote,
A total embrace of goodness and joy. We love Jack and I'm so excited to have a son, a brother and a best friend. Eugenie is one of the finest people I know and so together it will be pure harmony.
Such a mom move, but in like, the cutest way possible.
Fergie also seems to approve of Brooksbank's career choice too, and in her interview with BBC's The One Show back in August, she said, "The good news is Jack also works as the European Manager for Casamigos Tequila, so I am perfect," jokingly adding, "He'll just hand me the tequila and say, 'Come on, mother-in-law, down it'."
I want her to be my mother-in-law, TBH.
But she left things on a sweet note, saying, "Jack really is a sort of amazing bringer of light and he brings joy." So cute!
4. He and Eugenie are technically related.
Relax, people! The couple engaged to be wed are actually distant relatives — emphasis on the distant. Bare with me on this one, you guys, because the connection isn't the easiest thing to explain. According to The Daily Mail, "Brooksbank's father's great-grandfather is Viscount Thomas Coke, a former Earl of Leicester and a peer in the 19th century. Viscount Coke, who died in 1909, is also the great, great-grandfather of Sarah Ferguson, Eugenie's mother."
Basically, that means Brooksbank's great, great-grandfather is also the great, great-grandfather of Sarah Ferguson, Eugenie's mother. So there you have it.
"Marrying your cousin" jokes aside, it seems that Jack Brooksbank is a pretty perfect match for Princess Eugenie, and I for one am super pumped to witness yet another royal walking down the aisle. Congrats to the happy couple!