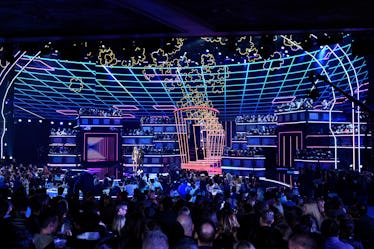 The Host Of The 2018 MTV Movie & TV Awards Has Been Announced & She's Perfect
Kevork Djansezian/Getty Images Entertainment/Getty Images
The host has just been announced for the 2018 MTV Movie and TV Awards, and the decision is epic. This person is funny, quick-witted, and a natural born entertainer — meaning you won't want to miss a minute of the show. Who's hosting the 2018 MTV Movie and TV Awards? The one and only Tiffany Haddish will be gracing the stage and bringing big laughs to the awards show.
The actress and comedian, best known recently for her roles in Girls Trip and Keanu, made the big announcement that she was hosting via Instagram on Feb. 22. In the video, Haddish is rocking a yellow green blazer that bares her chest with a bold, deep lip. The caption of the video says,
So I got some Great News Everybody! I will be hosting the MTV Movie and TV Awards.. make sure you watch Monday June 18th on MTV. The Awards will be in Los Angeles and it will be fun! #MTVAwards #SheReady #godisgood #mtv #godisshowingout
In the video, Haddish introduces herself (as if she needs an introduction) and then goes on to explain that she's hosting the show Monday, June 18. Haddish is already holding herself to high regards. She gave her guarantee that the show would be unforgettable when she said,
It's gonna be off the chain, and you know why? I'm hosting! And you know what that means — it's gonna be hilarious.
No doubt about it. Needless to say, fans are pumped. User @marioramonela said in the comments, "This is major Boo!!!! A giant congratulations to you!!!"
Another fan, @yamileyluv, admitted that Haddish will be the only reason they're tuning into the awards show this June. The comment said, "Haven't watched the mtv awards since 2013.... definitely going to watch it now !!!!!!"
Overall, people just want good things for Tiffany Haddish. Another fan on Instagram, @ma2295, wrote, "Good vibes sent your way saw you in on snl (snow day I'm catching up) today your so funny and real! many blessings to u."
Although she's been in the business for almost two decades, Haddish's career has been a whirlwind of success the past two years. She's set to star in Tracy Morgan's upcoming TBS sitcom, The Last O.G., and the much-anticipated Kevin Hart comedy Night School, which is directed by Malcolm D. Lee — the marvel behind the camera in Girls Trip.
The New York Times asked Haddish about her "dizzying" breakthrough year to which she responded,
I wouldn't say it like that. It's more like [breaking into song] finally it is happening to me, right in front of my face and I know I'm excited. Finally it's happening to me, after all the hard work and now it's paying off. I just made that up.
There's no denying she's one of the hardest working people in the business. She recently made her debut on Drunk History Jan. 23. Her inebriated version of the true story of WWII's Rose Valland and The Monuments Men was everything. Pure comedy gold.
While Haddish seems like an obvious narrator for the series, co-creator Derek Waters told Vulture that there was a very specific reason he sought Haddish out. He said,
One of many qualities that Tiffany has and what I love in narrators is that there's no one else like them. They're gonna tell you how they feel no matter what. She was very enthusiastic about doing it. She really wanted to do the history of the weave, and unfortunately we weren't able to make it happen, but when I sent her the story she did, she got very, very excited.
Let 2018 be the year of more Tiffany Haddish. So excited for the 2018 MTV Movie and TV Awards and what else will come from this leading lady.
Check out the entire Gen Why series and other videos on Facebook and the Bustle app across Apple TV, Roku, and Amazon Fire TV.