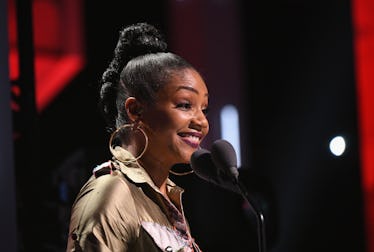 Tiffany Haddish Presented Oscar Nominations & Her Jokes Had Twitter Laughing Out Loud
Dia Dipasupil/Getty Images Entertainment/Getty Images
Comedian Tiffany Haddish has had a banner year. The actress stole the show in the mega-hit Girls Trip, hosted SNL, and told the best anecdote about Groupons ever on Kimmel (it even landed her a Super Bowl commercial), so it's no surprise that she was enlisted to announce the 2018 Oscar nominations early Tuesday, Jan. 23. She and Andy Serkis teamed up for the job and of course, Haddish was her hilarious self, even at 5:30 AM in the morning. How could anyone not love her? These tweets about Tiffany Haddish reading Oscar nominations will start your day off right.
If you ask Twitter, Tiffany is definitely a favorite to host the Academy Awards. Sure, Jimmy Kimmel has already been bestowed that honor, but we wouldn't be surprised if the star attended as a presenter or even as part of a sketch considering her popularity and comedic skills. While Tiffany did not receive a surprise nod for her outstanding work in Girls Trip, we did get to see her report this year's nominations, and she even managed to sneak in a few jokes along the way. Maybe she'll be on the short list to host next year?
Tiffany was pretty much unstoppable in the entertainment world this year. Not only did the 38-year-old receive critical acclaim for her performance in Girls Trip, she released her own Showtime comedy special, Tiffany Haddish: She Ready! From the Hood to Hollywood. Additionally, she became the first black comedian to host Saturday Night Live and she released a memoir, The Last Black Unicorn.
Up next for Haddish is the Kevin Hart comedy, Night School, which is directed by her Girls Trip director Malcolm D. Lee. She's also set to star in Tracy Morgan's upcoming TBS sitcom, The Last O.G. And even though it feels like she's had a meteoric rise in a short period of time, she's been working towards this point for nearly 20 years. When asked about her "dizzying" breakthrough year, she told the New York Times,
I wouldn't say it like that. It's more like [breaking into song] finally it is happening to me, right in front of my face and I know I'm excited. Finally it's happening to me, after all the hard work and now it's paying off. I just made that up.
And if you need even more Tiffany in your life right away, look no further than her episode of Drunk History, which airs Tuesday, Jan. 23. We all know what a tremendous stand-up and storyteller she is by now, so of course her inebriated version of the tale of WWII's Rose Valland and The Monuments Men already seems like an epic installment for the ages. Watching Tiff's intoxicated retelling of the events unfold is pure gold and Busy Phillips' reenactment of her lines only make it that much better. The series' co-creator Derek Waters even spoke to Vulture about why he wanted Tiffany to be a part of the show, revealing,
One of many qualities that Tiffany has and what I love in narrators is that there's no one else like them. They're gonna tell you how they feel no matter what. She was very enthusiastic about doing it. She really wanted to do the history of the weave, and unfortunately we weren't able to make it happen, but when I sent her the story she did, she got very, very excited.
We look forward to seeing Tiffany do basically anything in 2018 — whether it's announce award show nominations, drunkenly explain historical events, or kill it on the big and small screens. Something tells us she's getting started.