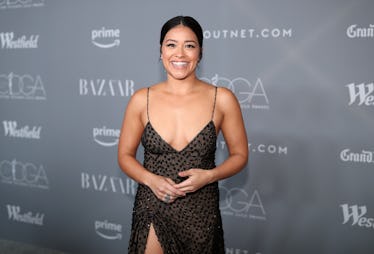 Gina Rodriguez Is Dating An Actor & Their Relationship Is So, So Cute
Christopher Polk/Getty Images Entertainment/Getty Images
Gina Rodriguez is presenting at this year's Academy Awards ceremony, and I, for one, am excited to see this amazingly talented woman take the big stage. The Jane the Virgin star is always just so bubbly and relatable, and her warmth is completely infectious. Here's hoping she turns up on the red carpet with her adorable boyfriend, because the two of them are for real the cutest couple ever. Who is Gina Rodriguez dating? His name is Joe LoCicero, and they met back in 2016 on the set of her show!
During an appearance on Live with Kelly and Ryan last spring, Rodriguez described their meeting as serendipitous. "We met on Jane," she explained to host Ryan Seacrest. (Fun fact: LoCicero was playing a stripper.) "He thought I was being nice to him because I am nice to everyone that comes on the show. It means a lot to me. So he thought I was just being super sweet to him. And I thought he was just being sweet on me because I'm the lead."
#CelebrityProblems, am I right? But then six months later, Rodriguez and LoCicero bumped into each other at the gym, where the two proceeded to bond over boxing — and is that not just, like, the coolest thing ever?
The couple even traveled to Thailand together last year, so that Rodriguez could train in Muay Thai (Thai boxing) for Jane. Total goals. Of course, a propensity for throwing punches in the ring isn't the only thing these two have in common. LoCicero is also an actor, who, in addition to his work on Jane, has starred in indie films like Welcome to Willits, Spaghettiman, and, most recently, Cop Chronicles: Loose Cannons: The Legend of the Haj-Mirage.
Rodriguez has been super open on social media about how meeting LoCicero has changed her life since the couple first made their red carpet debut at the SAG Awards back in 2017.
"You make my heart smile @joe_locicero #blessed," she captioned the above video, which she posted on Instagram last May. "Human connection is more important than money, power or fame. Everything is sweeter with you Joe. The stress isn't as hard, the fear isn't as great and I know I can take it all on with you lifting me up."
So incredibly sweet! Rodriguez also shared her love for her man in a 2017 Valentine's Day post.
"I have known love but never have I known a love like this," she explained. "You make my heart smile. #RealLove." And if you think that's adorable, check out what Rodriguez had to say about LoCicero on his birthday:
"To my king," she wrote. "I love you. Happy birthday. #sexiestmanAlive."
Rodriguez also credits LoCicero for helping her deal with her Hashimoto's disease — and the weight fluctuations that come along with it.
"[He] has really helped me have a healthier perspective on [weight], that stupid number that can destroy us and feel like it's equivalent to our self-worth," Rodriguez explained in the February 2018 issue of Self. "This love is so easy."
Rodriguez won a Golden Globe in 2015 for Best Actress in a Comedy Series for Jane the Virgin, and she's currently starring in the film Annihilation with Natalie Portman. But while it may seem like it's all come so easy, she recently copped to a lack of confidence at the beginning of her career.
"I didn't know my worth [at the start of my career] because the industry had such a specific perspective on what it should be as a brown woman," Rodriguez told Self. "I had to start saying, 'Well, I know if I work hard, I can show my worth,' and I have been doing nothing but that."
So strong and inspiring... never stop slaying!