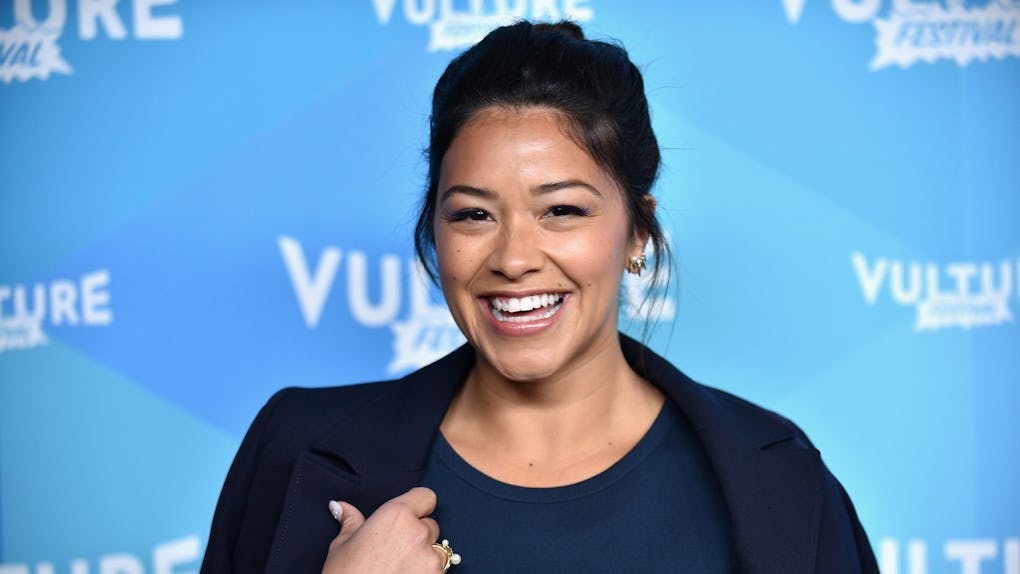 Bryan Bedder/Getty Images Entertainment/Getty Images
What Is Gina Rodriguez Up To Now? 'Jane the Virgin' Star Is Far From Bored – EXCLUSIVE
After finishing my conversation with Gina Rodriguez, I began to wonder if there was anything she was incapable of doing. Despite our talk being brief, I was able to understand who she is as a person just by the way she presented herself over the phone. I didn't need to see her face to know this gorgeous Latina was filled with pleasantries, clearly invested in her craft and eager to share what she's come to learn. What is Gina Rodriguez up to now? The star is far from bored.
It was hard not to grin just listening to her speak. Rodriguez's positivity was infectious, and hearing her list off all the things she's up to without acknowledging a hint of exhaustion was refreshing. She wants to do these things in her life, and even better, is looking to make a difference.
Jane the Virgin has made it to a fourth season, one that Rodriguez calls "her favorite so far," and with the new episodes come plenty of exciting moments for our titular character.
"Joy, happiness, Jane getting back on her feet, rising above grief, learning her prowess… it's just a really well written season," Rodriguez tells Elite Daily.
She also adds that this season features plenty more humor than in the past, shifting from sides of grief to waves of happiness and stronger family bonds.
And yes, there will still be plenty of love triangles, don't you worry.
If you can't already tell, Jane the Virgin is as a real of a series as they come. According to Rodriguez, the most beautiful thing about executive producer Jennie Snyder Urman's work is that she pulls it all from real life experiences.
"She listens to our conversations, watching people interact day-to-day," Rodriguez says. "So much of what comes out on the show is from Jennie's experiences. The stories from writers, or stories they hear, they're all common, true, and pertain to real life. We don't sugarcoat anything."
When Rodriguez isn't living her best life on The CW's hit comedy-drama telenovela, she's been playing pretend on the set of screenwriter and director Alex Garland's upcoming sci-fi thriller, Annihilation, a role that one can expect to be drastically different from Ms. Villanueva (also a role that Rodriguez refers to as being quite the "bad b*tch").
"Thank god for NYU, my training, and my education that's provided me with technique to help shift from role to role. My character, Anya Thorensen, is strong, crass, has no filter, and is a lesbian who is not afraid or ashamed of her attraction to women," Rodriguez tells Elite Daily.
She continues,
When I get to play people like this outside of Jane with such a new sculpture, it keeps me appreciative of her. I get to leave her skin, and come back to her with new experiences from the people I've met and new techniques and perspectives I've picked up.
Even with such a hectic schedule, Rodriguez still manages to find time to take off her actor hat and, well… just be Gina. The 33-year-old just happened to purchase her first home, making her love of bringing friends and family together an easy reality. It also made it an easy choice for her to partner with Stella Artois for its "Host One to Remember" campaign.
And there ain't no party like a Gina Rodriguez party, ladies and gentlemen.
If you're looking to concoct the perfect gathering at your home, no matter the occasion, Rodriguez says you need the following things:
Music playing, an overflow of a collection of foods to satisfy everyone's appetite, cold Stella Artois, stories being told, games played, and laughter that can almost drown out all the sounds.
And there's that word: Laughter.
To describe a gathering at Rodriguez home in one word, that's what she would use.

 "You walk in, and I guarantee, people are laughing. I want people to feel good, smile, and walk away having created a memory," Rodriguez tells Elite Daily.
"Oh, and they should have full bellies, too."
Jane the Virgin airs at 9 p.m. ET on Fridays on The CW.