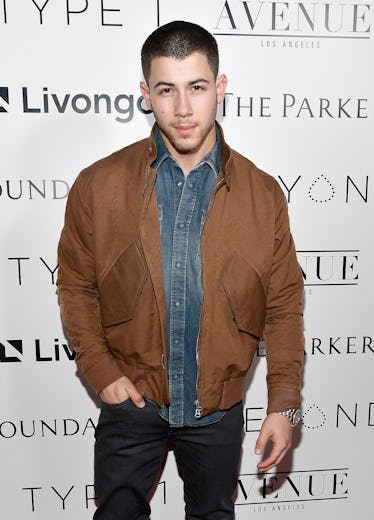 Nick Jonas Is Reportedly Dating This Model & She's So, So Gorgeous – PHOTOS
Frazer Harrison/Getty Images Entertainment/Getty Images
I watch Nick Jonas' dating life very carefully. Besides the fact that I think we would really hit it off, I'm absolutely fascinated that he's still on the market. He sings, has abs, comes from a nice family, and has a great sense of humor — HE'S THE TOTAL PACKAGE. Well, it seems that somebody may be scooping him up right from under our noses. Although nothing has been confirmed, people are asking, "Who is Georgia Fowler?" Jonas has recently been romantically linked to the model and fans have questions.
Jonas was first spotted with Fowler leaving Joe Jonas and Sophie Turner's engagement party on Nov. 4 in New York City. A source from E! News confirmed that Jonas and Fowler are indeed dating casually, but are definitely not exclusive. The source said,
Nick is dating Georgia. It's very new. She thinks he is very sweet and sexy. Every time they hang out he has been a complete gentleman. They are not exclusive.
This kind of surprises me because a close relative's engagement party seems like an event you would take someone you're dating a little more seriously. Like, she probably met literally the entire family (including extended family) — the whole thing comes off as a bigger deal than it probably was. Anyways, enough of my overanalyzing, here's the photos of Fowler and Jonas leaving the party:
Jophie was the real star of the evening (obviously), and Fowler seemed to enjoy the family time, according to E! News. The source continued,
His brothers are always so nice to her, and she felt very comfortable with his family this [past] weekend for the festivities. They shared some sweet gestures, but not overly flirting. She seems very smitten over him.
In case you couldn't tell by her long legs and nice skin, Fowler is a model. According to her Instagram, the beauty, who hails from New Zealand, is backed by IMG Models and has even graced the runway of the Victoria's Secret Fashion Show.
Fowler first gathered attention when she was rumored to be dating Harry Styles. According to the Daily Mail, the two had a very short stint in 2015. The fling gained so much notoriety that fans thought Styles' song "Kiwi" was about Fowler.
In the video above, Fowler actually sets the record straight (sort of) during an interview with The Morning Show, an Australian morning talk show. Besides the fact that her face completely drops into a frown upon being asked the question, her answer is pretty succinct.
I don't really know anything about it — definitely didn't have a baby. That's what the song's all about so I think it's highly unlikely.
The lyrics from "Kiwi" that Fowler is referencing are probably from the chorus. According to Genius Lyrics,
She's driving me crazy, but I'm into it, but I'm into it
I'm kinda into it
It's getting crazy, I think I'm losing it, I think I'm losing it
I think she said "I'm having your baby, it's none of your business"
"I'm having your baby, it's none of your business"
"I'm having your baby, it's none of your business"
"I'm having your baby, it's none of your, it's none of your"
We know the lyrics, we love them, and we're still not sure if the song is about Fowler. Whether they are or aren't — it really doesn't matter. Fowler's rumored romance with Styles was all the way back in 2015.
Speaking of hunky singers, if Fowler decides to pursue a relationship with Jonas, I honestly can't blame her. The source from E! touched on the fact that the duo is taking things slowly. The source added,
She is happy how everything is going in her life at the moment. She has [spoken] to some of her close girls about Nick. She is taking [it] day by day but mainly focusing on her work.
Both of them have such booming careers, so I totally understand. It will be interesting to see what the future holds for these two possible love birds. Best of luck to them.
Check out the entire Gen Why series and other videos on Facebook and the Bustle app across Apple TV, Roku, and Amazon Fire TV.