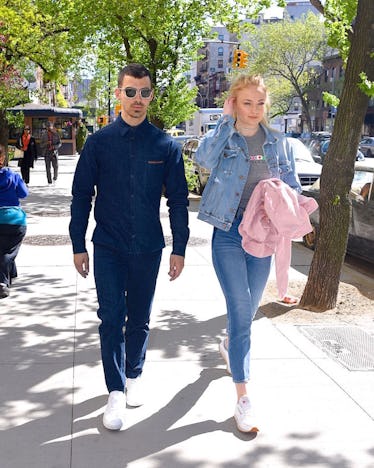 Joe Jonas & Sophie Turner Threw An Engagement Party & The Photos Are Too Cute
Robert Kamau / Contributor / Getty Images
Young love is alive and well — just take a look at the newly betrothed Jophie. In case you thought romance met its demise in 2017, the DNCE frontman and Game of Thrones starlet have arrived to prove you wrong. Photos of Joe Jonas and Sophie Turner's engagement party showed fans that everyone is more than ready for the two to become one.
Turner and Jonas were certainly glowing in photographs of their New York City celebration on Nov. 4. The couple's guest list of 30 people — friends and family — came together to ring in the festivities, per People. The lovebirds appeared as happy as ever, locking arms while (naturally) rocking stylish ensembles — Turner in a white blouse and black vest, Jonas in an intricate blue-patterned suit.
Of course, no party is complete without the people who matter most. Kevin Jonas and his wife Danielle were just two members of the guest list who were in attendance and ready for the meaningful night. Nick Jonas was photographed arriving with model Georgia Fowler (though fans are probably curious why he didn't bring best-friend-who-should-really-be-his-girlfriend, Demi Lovato) while other members of the DNCE crew and Ashley Graham — who starred in the group's "Toothbrush" music video — made an appearance at the shindig as well.
Have a look at some of the highlights from Jophie's engagement party and get in on all the lovey dovey footage.
The DNCE singer's post on Instagram in October sent fans into a tailspin. The black and white photo of the couple holding hands — and Turner's engagement gorgeous ring — had a simple caption, "She said yes," so of course everyone lost their cool. To add to fans' excitement, Turner responded with an Instagram post of her own — the same photo with the caption, "I said yes." Since this news, fans have been keeping a watchful eye on the dynamic duo.
Word on the street is that the Jo Bro totally surprised his lovely lady by popping the question a month ago. A source reportedly dished to US Weekly, hinting that the singer is a softy and purposely meant to catch Turner off guard. Commenting on the engagement, the source said, "Joe is a romantic. He is really so in love with Sophie and she's so in love with him." Well that's pretty darn cute — who doesn't love a hopeless romantic?
I'll tell you who: Game of Thrones fans. People were very concerned when this engagement news broke that Sansa Stark's love life IRL could possibly delay production of the show (heaven forbid). Let's just take a look at Turner's co-stars, Kit Harington (aka Jon Snow) and Rose Leslie. Supposedly, Mr. Jon Snow said the production team obliged his request for a break in filming the final season of the HBO show. Harington said,
I rang [the producer] up... I was like, 'You need to factor in a Game of Thrones wedding by the way.' They [the cast] have all got to be there so the whole thing has got to shut down.
Chances are, fans will not be terribly pleased with waiting (even in the name of love). After all, people take GoT quite seriously... even if its cast members have impending nuptials. Viewers can only wait for winter for so long.
Regardless of GoT fans and concert schedules for DNCE, Jonas and Turner are scheduled to head down the aisle, though no word as to when. Judging from their swoon-worthy engagement party photos, it looks like the two are in for a sweet ride. Congrats!
Check out the entire Gen Why series and other videos on Facebook and the Bustle app across Apple TV, Roku, and Amazon Fire TV.