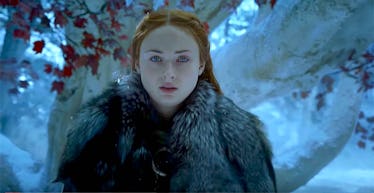 Could Sophie Turner's Engagement Delay 'GOT' Season 8? Fans Are Praying To The Seven Gods It Won't
HBO
Sansa Stark has been through multiple horrendous relationships on Game of Thrones, but in reality, things in Sophie Turner's romantic life couldn't be going better. The actress just got engaged to Joe Jonas, which is all well and good, but there is one thing about the new engagement that has Game of Thrones fans worried: will it delay the show? Here's everything we know about how Sophie Turner's engagement might affect Season 8 of Game of Thrones' production schedule.
The main reason fans are starting to worry is because a couple of weeks ago, we found out that the Season 8 production is getting delayed for another cast member's wedding. Kit Harington (who you probably know as Jon Snow) revealed that the Game of Thrones producers agreed to shut down Season 8 production for a day or two so the show's whole cast and crew could attend his upcoming wedding with fellow GoT actor Rose Leslie (who played Ygritte). Harington said the production team obliged his request to factor in a break in filming the HBO fantasy epic's final season:
I rang [the producer] up... I was like, 'You need to factor in a Game of Thrones wedding by the way.' They [the cast] have all got to be there so the whole thing has got to shut down.
Harington and Leslie announced their engagement just a couple weeks before Turner and Jonas earlier this week, so timeline-wise, it sounds likely that Turner's wedding may also fall during Game of Thrones production. Of course, Harington and Leslie are both GoT actors and met while filming for the show, so it's clear why they would want the whole cast and crew to be present for their big day. Turner, on the other hand, is marrying outside of the GoT family (unless Joe Jonas makes a surprise cameo in Season 8?), but we also know she's very close with the rest of the show's cast so she will probably want to have her on-screen family at her wedding as well.
With all that in mind, it certainly sounds plausible that Sophie Turner may make the same request Kit Harington did and shut down Season 8 production for yet another cast wedding. The good news is that the production shutdown will probably only amount to a couple days, barely delaying the release of the final season by much at all. Still, GoT fans the season ASAP.
Unfortunately for everyone waiting to get back into Westeros, the final season of Game of Thrones isn't only being delayed by weddings. Apparently, Hurricane Ophelia is also causing major delays in filming Season 8. I guess it's going to be a longer wait than we all thought...
We're still totally in the dark about an official release date for the highly-anticipated eighth and final season of Game of Thrones. The best info to go off of came when The Hollywood Reporter predicted the new season would likely premiere sometime in early 2019. That prediction came a couple months ago, before all these cast weddings and natural disasters, so I think it should probably be amended to sometime in the middle of 2019 at this point. Yes, that means a two-year wait — I'm not happy about it either.
I guess the up-side to the potential production delays is that we'll get to see some absolutely adorable photos of the whole Westeros gang dancing at weddings together without having to worry about who's going to be stabbed to death during the reception. I mean, the wait for the finale season was going to be long and insufferable no matter what, at least these weddings will give us some sweet GoT-filled moments during the wait.