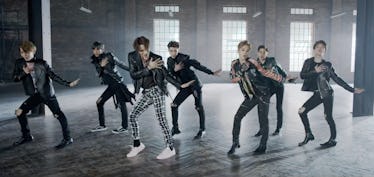 This Huge K-Pop Group Is Performing At The Olympics Closing Ceremony, So Be Ready
EXO/YOUTUBE
It may seem like the 2018 Olympic Winter Games in PyeongChang just started, but they are actually already winding down. That went way too fast, you guys! I mean, it feels like we were watching the puppets and the drones and that amazing cover of "Imagine" at the opening ceremony like five minutes ago. But now the city is already busy prepping for the closing ceremony on Feb. 25. So, what can we look forward to seeing this time around? Oh, you know, just performances from some of K-Pop's biggest stars like CL and EXO. Who is EXO, you want to know? Well, I am here to tell you.
The nine-member K-Pop group will be closing the 2018 Winter Games in PyeongChang Olympic Stadium in South Korea, and it's a pretty stellar choice, considering EXO is currently one of the most popular boy bands in Asia. They've released five studio albums that have sold millions, and they've also won a bunch of awards. So yeah, I'm totally down with whoever made this call! In case you haven't heard these guys perform, you should know that their music tends to have an R&B and electronic dance pop vibe, though they've also been known to bust out a little reggae and house.
Check it out:
Totally have "Call me baby, call me baby" stuck in my head now, so I really hope they plan to jam out to this during the event.
Meanwhile, EXO singer Suho told NBC he still can't quite believe his band was tapped for the gig. "It is quite overwhelming and unbelievable," he said. "We have seen other countries holding closing and opening ceremonies for the Olympic games before, so the fact that we are performing at the closing ceremony itself is very honorable and it is really great. I'm feeling a variety of emotions and I might even cry after the show. It is an honor for the entire family and the entire group."
So sweet! And I am totally digging this Boomerang he posted on Twitter:
He's just so cute! Even Thomas Bach, President of the International Olympic Committee, couldn't help but respond:
Amazing! And Bach is not EXO's only Olympic fan. Russian figure skater Yevgenia Medvedeva is such a huge lover of South Korean pop music that she told NBC she listened to the boy band through her earbuds before her short program on Feb. 11 in order to amp herself up for the performance. And it looks like it worked, because the 18-year-old then went on to skate such an incredible program, she broke her own world record.
"It's unreal inspiration and it really improved my mood," Medvedeva said. "I feel more confident because of them."
I really hope she gets to meet them at the closing ceremony. If you want to tune in, here's what you need to know: The event will take place on Feb. 25 at 6 a.m. ET. You can stream it live on nbcolympics.com or on the NBC Sports app without any anchor commentary — because we all know how well THAT went over last time — or you can watch the edited broadcast on NBC later that same night at 8 p.m. ET.
The theme for the ceremony is Next Wave, and it will have a "festival atmosphere" that will celebrate all of the athletes' hard work and achievements, according to Oh Jang-hwan, director of ceremonies for the PyeongChang 2018 organizing committee. "We have created a show that looks towards the future," he said. "It includes quite a lot of traditional Korean humor and fun elements to add to the party feel."
I don't know about you guys, but I can't wait to find out what that means!