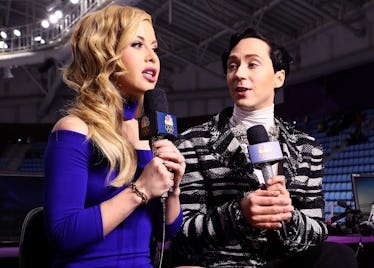 Johnny Weir & Tara Lipinski's Google Commercial Features A K-Pop Hit You'll Love
Jamie Squire/Getty Images Sport/Getty Images
If you've watched enough coverage of the 2018 Winter Olympics, you've probably noticed that figure skating commentators Tara Lipinski and Johnny Weir are featured in a lot of Google commercials. And if you've really, really been paying attention, you've noticed that one of those commercials features a song with a catchy whistle tune. Unless you're familiar with the music genre known as K-pop, though, it's unlikely you figured out which song is in Johnny Weir and Tara Lipinski's Google Home commercial.
That's where I come in.
The song with the whistle tune is actually called... "Whistle." The song is one of two debut singles from K-pop group Black Pink. In the summer 2016, just after Black Pink formed as a group, the band's other debut single, "Boombayah," rose alongside "Whistle" to the top of Billboard's world digital rankings.
Black Pink is a group comprised of four girls, all of Asian descent, but hailing from three different countries, according to Billboard. Group members Jennie and Jisoo are from South Korea, while another, Rosé, comes from Australia. The last member, Lisa, is from Thailand.
The full version of "Whistle" is similar to many other popular K-pop songs. It features a hook that's sung in English, with verses performed in Korean, all to a melody full of influence from multiple genres of music.
For Lipinski and Weir's commercial for Google Home, an abbreviated version of "Whistle" was used, which can be seen in the video below.
Weir and Lipinski have stared in a number of other Google Home commercials, which isn't surprising given how valuable coverage of the Winter Olympics is. Each version of the Olympic Games is like the World Cup. Both sporting events sit in a tier below the Super Bowl, in terms of how much of an unusually large television audience each can draw.
Whenever a sporting event draws an unusually large TV audience, you can expect really creative commercials that use the star power of the athletes related to those events.
There's no shortage of examples. During the Super Bowl, the NFL ran a commercial featuring New York Giants players Odell Beckham Jr. and Eli Manning re-enacting a famous scene from Dirty Dancing. For the 2018 Winter Games, Google has chosen to put together a K-pop banger and two former Olympians: Weir and Lipinski.
Who are Johnny Weir and Tara Lipiniski?
Johhny Weir is a veteran of two Winter Olympics, having last competed at the 2010 Olympic Games in Vancouver, where he finished sixth in the men's individual figure skating competition.
Tara Lipinski is also a former Olympian, who achieved legendary status when she was just 15 years old. At that age, she became a gold medal winner in the women's individual skating competition at the 1998 Winter Games in Nagano, Japan. A year before, when she was just 14, she won the individual competition at the World Figure Skating championships in Lausanne, Switzerland.
Alongside fellow American Michelle Kwan, who won the silver medal at the 1998 Winter Olympics, Lipinski was known as one of two teenage sensation within Team USA's ranks.
After the '98 games, injuries derailed Lipinski's career, and she never won another Olympic medal. To this day, though, she remains the youngest competitor to win both an Olympic gold medal in her event and a world championship.
These days, Lipinski works alongside Weir in NBC's broadcasting booth at the Olympics in PyeongChang, where they've been guiding the casual fan along, breaking down which moves are really impressive and which ones were just, meh. On the side, they both (clearly) enjoy listening to a little K-pop, and you can dance along to it, too.