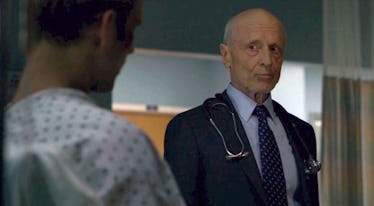 3 Things To Remember About Dr. Kozlov In 'Jessica Jones' Before Season 2
Netflix
With a new season of Jessica Jones right around the corner, now is the time to refresh your memory on all of the details from Season 1 that you may have forgotten about. After all, it has been almost three years since the first season debuted on Netflix in 2015, so chances are you will be going into Jessica Jones Season 2 with some blank spots in your memory... especially when it comes to the minor characters. For instance, you might be asking who is Dr. Kozlov in Jessica Jones if you haven't seen the first season in a while, but although the doctor played a relatively small part in Season 1, he is much more central to the new season, so you're going to want to brush up on him.
Dr. Kozlov was only in Season 1 of Jessica Jones for a few episodes, but he is an important part to the story in Season 2. That's because the new season will revolve around how Jessica Jones got her superpowers in the first place, and all signs seem to be pointing to Kozlov as the guy most likely to have those answers. Here's your refresher on all things Dr. Kozlov before you hit play on the first episode of Jessica Jones Season 2 on Thursday, March 8.
1. He Made Will Simpson Into A Super-Soldier
All of Dr. Kozlov's story in Season 1 revolves around the dangerous, complex character of Will Simpson, a former special ops soldier who realizes with Jessica Jones' help that he had been controlled by Kilgrave. When Simpson is wounded in his fight against Kilgrave, he insists that he be taken to see Dr. Kozlov rather than any other doctor, revealing that Kozlov served as his medic during his Army days as well.
Will Simpson's severe wounds start to heal insanely quickly after Kozlov gives him some pills. We soon learn that these pills also grant Simpson super strength and aggression, enough to best even Jessica Jones in a fight. When he and Jones do get into a brawl (he wants to kill Kilgrave but she needs to keep him alive to get him to confess to his crimes), it is only thanks to Trish Walker taking one of Kozlov's pills that they are able to beat Simpson. However, Jones and Walker rush off after the fight without noticing that Kozlov has swooped in to grab Simpson's unconscious body.
2. The IGH Connection
Three small letters that only popped up briefly in Season 1 of Jessica Jones are going to be a much bigger deal in Season 2. Towards the end of the first season, Trish Walker does some digging and discovers that Dr. Kozlov works for a mysterious organization called IGH. Even more alarming is that Walker believes that IGH may been somehow connected to Jessica Jones getting her superpowers back when she was a child.
Since IGH was left fully unexplored by the characters in Season 1, fans can bet that the mysterious organization will be at the center of the new story.
3. His Past In The Comics
Sometimes, Marvel fans can predicts where certain characters' stories will go in these shows by looking at the source material comic books. Unfortunately, Dr. Kozlov's role in the comics is less enlightening on his future, but does help curious viewers get more details on his past. In the comics, Miklos Kozlov was an activist captured by the Soviets, who forced him to work at their nuclear testing site after finding our he was a talented scientist.
During his time in the Soviet Union, Kozlov awoke an ancient dragon named Grogg, but was able to outsmart him and send him away. He then managed to sneak out of the Soviet Union and into the United States, where he changed his name to Michael Kozlov. That's the last time he's mentioned in the comics, so presumably his appearance in Jessica Jones comes much after all of that.