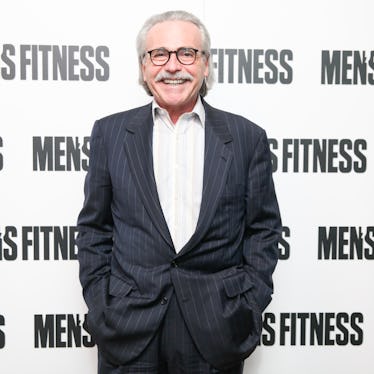 Another Trump Ally Reportedly Took A Deal In The Michael Cohen Case, So This Is Real
BFAnyc.com/Shutterstock
The recent Michael Cohen drama has been heating up, and every day is shaping up to be a new development. Well, as of Thursday, Aug. 23, a new name and face has entered the arena. So, who is David Pecker? This media mogul might have some information that could make a big splash.
On Aug. 23, The Wall Street Journal reported that David Pecker, the CEO of American Media, Inc., has reportedly been granted immunity by federal prosecutors in exchange for information about Michael Cohen's payments to Stormy Daniels and Karen McDougal, two women who claim to have had affairs with Donald Trump years ago. Donald Trump has consistently denied the affair allegations. Elite Daily reached out to American Media, Inc. for comment, but did not immediately hear back. The Southern District of New York Attorney General's office declined to comment to Elite Daily.
Pecker, a longtime friend of Trump's, was allegedly involved in an effort to silence McDougal about her claims of an affair with Trump, per The Wall Street Journal. In June 2016, the tabloid The National Enquirer, which is owned by American Media, Inc., reportedly purchased the rights to McDougal's story about the alleged affair with the intent to not publish it, which is known as "catch and kill." Cohen allegedly agreed to repay the publication for the payment for McDougal's story. American Media, Inc. also allegedly alerted Cohen to Daniels' story, for which Cohen paid $130,000.
As for Pecker and Trump's relationship, the connection between the two apparently goes way back. According to The Wall Street Journal, the two have known each other since the 1990's, when Pecker published Trump Style, a quarterly magazine that was distributed to guests at Trump properties. Plus, Pecker has been a guest at Trump's Mar-a-Lago resort in Palm Beach numerous times. Elite Daily reached out to the White House for comment about President Trump's relationship with Pecker's and reports of the immunity deal, but did not hear back in time for publication.
Safe to say, the past few days have been some of the most difficult for Donald Trump, and Pecker's reported immunity deal is yet another punch to the administration. On Aug. 21, Donald Trump's former attorney Michael Cohen pleaded guilty to eight counts of financial fraud, including five counts of tax evasion, one count of false statements to financial institutions, one count of cause of unlawful corporate contribution, and one count of excessive campaign contribution. In his plea deal, Cohen claimed that Trump had instructed him to make the payments to Daniels and McDougal, and that the then-candidate had been fully aware. Elite Daily reached out to the White House for comment on the claims, but did not hear back. That same day, Trump's former campaign manager Paul Manafort was convicted on eight charges of financial crimes, including five counts of tax fraud, one count of hiding foreign bank accounts, and two counts of bank fraud.
Having former allies taking plea deals and being convicted of crimes is bad news as is. However, according to lawyer and author of A Citizen's Guide to Impeachment, Barbara Radnofsky, who has not been involved in legal proceedings involving Trump or Cohen, these recent trials could mean even worse news for Donald Trump. According to Radnofsky, Cohen claiming that Donald Trump directed him to make the payments to Daniels and McDougal could serve as an impeachable offense for the president, because his actions could be considered "harmful to the country, people or system of government," which qualifies under "high crimes and misdemeanors."
So clearly things aren't looking great for Donald Trump at the moment, but time will only tell what Pecker's immunity means for the future of his administration. Since American Media publishes popular celebrity gossip magazines including Us Weekly, Star Magazine and Ok!, Pecker might be immune to being shocked by the recent jaw-dropping news making headlines lately.
Just when we all thought we had seen it all, leave it to 2018 to surprise us yet again. Who needs House of Cards when you have this drama?