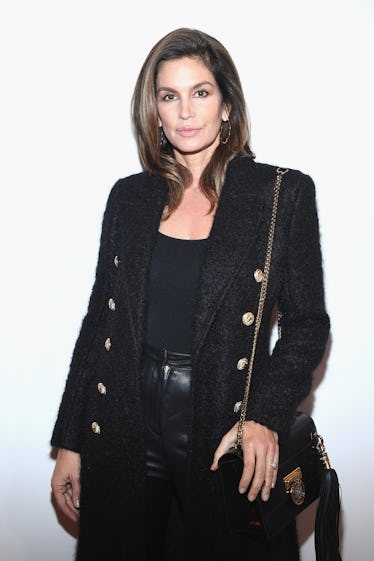 Cindy Crawford's Son Is Also A Model & The Resemblance Is Uncanny
Pascal Le Segretain/Getty Images Entertainment/Getty Images
Everyone in the world knows the name Cindy Crawford, and during Super Bowl LII this year, the world is going to get to know her son as well. Crawford's son Presley Gerber followed in his mom's footsteps into modeling, and now the mother and son are slated to appear together in a Super Bowl ad spot for Pepsi. Before you see him costar with his mom in what is sure to be the big commercial of this year's Super Bowl, get everything you need to know about Cindy Crawford's son Presley Gerber right here.
Presley Gerber is obviously part of a supermodel legacy thanks to his mom, but even more than that, the whole Crawford-Gerber family is a supermodel empire. Presley's father Rande Gerber is also a former model, who now makes a living as an entrepreneur in the nightlife industry, and his younger sister Kaia Gerber also took up modeling and has been making a big splash on the runway recently. For his part, Presley Gerber is only 18, but is already signed to IMG Models and just walked in Paris Fashion Week. He is also currently seeing another buzzy model, Charlotte D'Alessio. But the big thing is that he looks just like his mother! Seriously, the resemblance between Presley Gerber and Cindy Crawford is pretty uncanny. Check out this pic of the whole Crawford-Gerber family and see the supermodel resemblances below:
Although Presley Gerber has already done a lot of really impressive things in his modeling career over the past couple of years, his appearance in the upcoming Super Bowl Pepsi commercial on Sunday, Feb. 4 is sure to be his crowning achievement. Presley is joining his mom Cindy Crawford to recreate her iconic 1992 Pepsi ad, which went on to become one of the most famous commercials of all time.
During the 1992 Super Bowl, Cindy Crawford starred in an instantly famous commercial for Pepsi. The ad featured Crawford getting out of a car in a white tank-top and jean shorts, as two young boys watched her walk over to a vending machine to dispense a can of Pepsi. The ad was meant to introduce a new design for Pepsi cans, but went on to become more well-known for defining Cindy Crawford's look and influence as a supermodel in the '90s. You can check out the 1992 Pepsi ad below:
It is unclear exactly how Pepsi is planning on recreating this 1992 commercial with Cindy Crawford and her son Presley Gerber this year. Considering the gross-out factor of having Crawford's own son staring at her like those kids in the original commercial, they are probably going to be reworking the concept a bit to make Crawford and Gerber's roles make more sense.
The thing that is for sure is that Pepsi's Super Bowl commercial will be one of the most talked about moments of the night. As one of the Super Bowl's most visible and biggest sponsor's Pepsi always brings it when it especially hard when it comes to its commercial for the event. For me, nothing will ever compare to when Pepsi got Beyoncé, Britney Spears, and Pink to all star as gladiators in the 2004 Super Bowl ad.
But although Pepsi has definitely had a history of massive hit commercials, things took a disastrous turn for the soda company's ad team last year. The brand was widely critiqued for attempting to capitalize on the Black Lives Matter movement with their recent commercial, which featured Kendall Jenner ending a confrontation between police and protestors by handing out cans of Pepsi. With that tone-deaf ad as the last taste in most viewers' mouth, it will be important to Pepsi to make sure this year's Cindy Crawford-starring commercial is a home run.