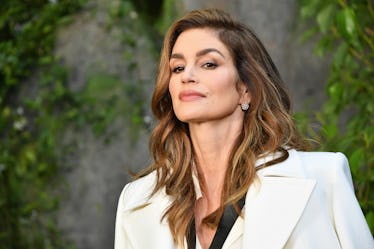 Video Of Cindy Crawford's 1992 Pepsi Commercial Will Get You Pumped For The Super Bowl
Pascal Le Segretain/Getty Images Entertainment/Getty Images
If you'e not that big of a sports fan, you can count on the Super Bowl's epic commercials for entertainment during your friends' viewing party. From strangely emotional car commercials to kooky Budweiser ads, the seemingly endless budgets for Super Bowl ads produce memorable, creative commercials that often live on well past that night. When then-25-year-old model Cindy Crawford's 1992 Pepsi commercial launched during that year's big game, her quintessentially '90s ad became one of those moments synonymous with the tradition of Super Bowl commercials.
The 1992 Super Bowl was held between the victorious Washington Redskins and the Buffalo Bills on Jan. 26. While the phrase "Pepsi commercial" may stir up visions of Kendall Jenner today, the meaning was far more innocent back then. Crawford's ad took place from the perspective of two young boys watching her approach a vending machine for a can of Pepsi. While the viewer initially thinks that the boys are captivated by Crawford, who caused a stir the previous year with her choice of dress at the Oscars, the commercial reveals that they're actually transfixed by the new look of the Pepsi can.
A re-watch of the classic ad is perfect prep for this year's Super Bowl ads on Feb. 4. Crawford and her teenage son Presley Gerber, also a model, star together in a new Pepsi commercial that will debut during the game.
Don't you miss how '90s commercials always had those announcers with the great movie trailer voices? Forget TV reboots and bring back cinematic-sounding soda commercials.
Obviously, Crawford has never quite lived down the aftermath of the commercial, but she doesn't seem to mind. Upon the announcement of the new commercial with her son, Crawford said in a press release:
To this day, people come up to me to talk about how much they loved my original Pepsi spot from '92. The commercial was a big moment for me and has spanned generations. I am proud to play a role in this iconic pop-culture phenom and excited for fans to see our new take on the Pepsi spot during [the] Super Bowl.
This year's Pepsi ad, part of the "Pepsi Generations" campaign, will reflect on the brand's commercials and the famous figures who appeared in them. Other unnamed celebrities will appear alongside the mother-son duo in the 30-second ad, but as E! News points out, people seen in Pepsi ads over the years include Madonna, Janet Jackson, David Beckham, Britney Spears, and even 2018 Super Bowl halftime performer Justin Timberlake. Can we expect a Timberlake crossover appearance?
This isn't the first time Crawford has thrown it back to her infamous ad. In 2016, in honor of the milestone Super Bowl 50, she parodied the commercial with James Corden, proving that she clearly hasn't aged a day since the original ad.
Later that year, Pepsi even released a modern version of the ad, complete with emojis, of course:
Gerber, 18, has also embraced the family's Pepsi tradition.
Gerber is currently signed to IMG Models and has appeared in ads for Omega Watches alongside his 16-year-old sister Kaia, who's basically Crawford's mini-me.
While Super Bowl Sunday may be the first time many of us notice Gerber, this actually won't be his inaugural ad with Pepsi. Crawford recently told PEOPLE that her kids appeared in an early 2000s ad with her:
The car in that one is not a Lamborghini, it's an SUV, and I've got my two little kids in the back. So they have been part of the Pepsi family really since they were little. To include now my next generation, Presley, just makes it that much more familial feeling. I hope it gives people that warm, fuzzy feeling.
It's safe to say that adding onto her Pepsi commercial count is a Super Bowl tradition that Crawford is never ashamed of. We can't wait to see what her ad with her son will be like!