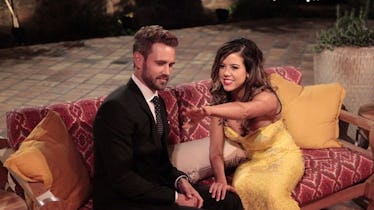 This 'Bachelor In Paradise' Favorite Is Back For More Action In Mexico
Rick Rowell/ABC
It can be tough to keep track of the revolving door of Bachelor in Paradise contestants, so if you're squinting at your TV wondering, who is Christen on Bachelor in Paradise, you're not alone. You might actually know Bachelor Nation's Christen Whitney by her oddball, infamous nickname: Scallop Fingers. Christen first appeared on Nick Viall's season of The Bachelor, next had a turn on Season 3 of BiP, then later was a contestant on ABC's other engagement-focused series, The Proposal. Maybe the fourth time's the charm — she's currently appearing on Season 4 of BiP.
Christen's nickname has a pretty memorable back story. As bartender Wells Adams explained on the Monday, Sept. 3 episode of BiP, the unusual moniker is the result of a particular scene from last summer's season of BiP. After a dinner out at a restaurant, Christen ate leftover scallops in the car with her fingers, and then reportedly touched another woman's shoulder. The smell of scallops apparently lingered behind on the woman's skin. (Controversial opinion here, but, uh, is that such a bad thing? Scallops are a delicacy, people!)
For the record, Christen seems to have taken the nickname in stride. Last September, she defended herself on Twitter with a jokey, "K so I love scallops #BachelorInParadise."
To celebrate her episode airing on Monday night, Christen posted an adorable Instagram of her hugging Wells in Mexico. In the caption, she revealed one scene that never made it to air: Wells waiting with her date card when she walked out of the water.
Thanks for the scallops recap @wellsadams 💀 Deleted scene: @wellsadams was waiting with my date card when I walked up out of the ocean. No one I would rather have greet me than this knucklehead 💓
Christen kicked off her time on the show with a double date, along with John Graham (her date), new contestant Shushanna Mkrtychyan, and Kamil Nicalek (Shushanna's date). They sailed around on a yacht and got to know each other — not such a shabby way to enter BiP.
Regarding her last turn on reality TV, Christen announced on Twitter that she was offered the lead role on The Proposal but chose to turn it down — and serve as a contestant instead — because she wasn't necessarily prepared to accept a proposal.
This time around, Christen will have significantly more time — days or weeks instead of just minutes! — to develop a relationship with a person of her choosing before mutually deciding to take it to the next level with an engagement.
Prior to joining Bachelor Nation, Christen was a wedding photographer living in Tulsa, Oklahoma. According to her Instagram, she currently lives in Nashville, Tennessee.
Per ABC's site, Christen is pretty feisty. When asked which fictional character she'd most like to be, she responded, "Katniss Everdeen. She's tough and hot and she marches to the beat of her own drum! Dig it!" And when asked about which animal she'd like to embody, she explained, "[A] wild Mustang. They are wild, free and uninhibited. They run with the wind."
Christen is a beloved member of Bachelor Nation, and it'll be exciting to see where this season takes her.
Bachelor in Paradise continues on Tuesday, Sept. 4, at 8 p.m. ET on ABC.