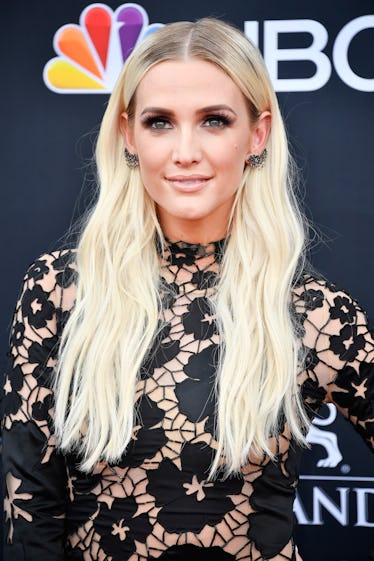 Ashlee Simpson Finally Revealed The Major Celebs That Inspired Her Song "Boyfriend"
Frazer Harrison/Getty Images Entertainment/Getty Images
Well, well, well. Isn't this a special surprise. 13 years after the release of her hit song "Boyfriend," Ashlee Simpson is finally revealing who the classic 2005 pop-rock anthem is about. If you guys recall, Simpson was deep in her rebel phase during this time, rocking heavy eyeliner, ass-kicking boots, and lots and lots of edgy side bangs. She wrote moody anthems, catchy choruses, and did not — I repeat, she DID NOT — steal your or anyone else's boyfriend. So, who is Ashlee Simpson's "Boyfriend" about, then? EXACTLY WHO FANS THOUGHT IT WAS ABOUT, PEOPLE! — Lindsay Lohan and Wilmer Valderrama, baby!
I freaking KNEW it!
Back in 2005, rumors were swirling in the press about Simpson and Valderrama dating. The year prior, Valderrama broke up with actress Lindsay Lohan after living together and staying by her side while she suffered periods of severe exhaustion and distress. To add fuel to the fire, Valderrama famously went on The Howard Stern Show after his split from Lohan and made some bold statements about being intimate with Simpson and plenty of other women, too. (He later showed regret over these comments.)
In all of the years since then, Simpson has maintained the lyrics are simply general commentary on what it's like to be young and dating. She's never named names.
In case you've forgotten, some of the lyrics go like this:
Verse 1: All that stuff about me, Being with him, Can't believe, / All the lies that you told, Just to ease your own soul / But I'm bigger than that, No, you don't have my back, / No, No, / HA! /
Chorus: Hey, how long till the music drowns you out? / Don't put words up in my mouth / I didn't steal your boyfriend / Hey, how long till you face what's goin' on? / Cause you really got it wrong / I didn't steal your boyfriend
Verse 2: Well I'm sorry that he called me / And that I answered the telephone / Don't be worried, I'm not with him / And when I go out tonight I'm going home alone
For extra nostalgia, here's the video:
Today, Simpson (who actually goes by Ashlee Simpson-Ross) is debuting a new reality TV show with her husband, Evan Ross, called ASHLEE+EVAN. As part of their promotion, they joined Andy Cohen on his show Watch What Happens Live where she finally spilled the "Boyfriend" beans. As part of Cohen's famous game, Plead The Fifth, Simpson-Ross revealed she did not steal Valderamma from Lohan.
Cohen asked, "There were rumors that the lyrics 'I didn't steal your boyfriend'... was allegedly about you not stealing Wilmer Valderamma from Lindsay Lohan. Was that true?"
Simpson-Ross very casually responded, "Yeah, I mean. I hung out with him first and I wasn't interested in that. And, we're great! All is well!"
Evan Ross also vehemently confirmed, "It was. It was. It was. It was."
The moment is somehow both anti-climatic and very satisfying. Take a look.
I know. I'm sucked right back into Ashlee's orbit again, too.
ASHLEE+EVAN premieres on E! Sunday, Sept. 9 at 10 p.m. EST, and you better believe I'm tuning in. Lord, help me.