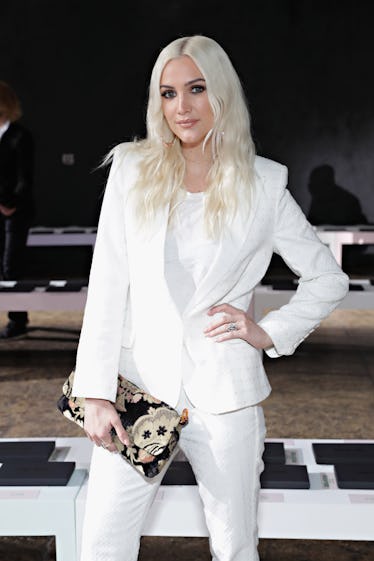 Ashlee Simpson's Docuseries Is Coming & No, You're Not Reading A Headline From The '00s
Cindy Ord/Getty Images Entertainment/Getty Images
If you want her auto... want her autobiography, baby... just ask her. Seriously. Ashlee Simpson is clearly not afraid to put her life in front of the camera. The singer/actress stepped out of her sister Jessica's shadow with her own MTV reality show back in 2004, and now she's coming back to the small screen for a new E! series. Yes — Ashlee Simpson's docu-series, Ashlee and Evan, is coming to a TV set near you.
Ashlee and Evan will focus on Ash and her hubby Evan Ross as they deal with their relationship, family, and music careers. In addition to committing to one another as life partners, the couple is also set to make a creative collaboration — they're reportedly set to record a duet album together. Ashlee and Evan were married in 2014 and have one child together, 2-year-old daughter Jagger Snow. While many reality TV marriages before them haven broken, Ashlee and Evan remain confident that the spotlight won't influence their marriage.
"I think in any relationship in this industry, there's a stress on relationships," Ross told ET at NBC's Summer Press Day. "I think that's reality, but in no way do I think that if a relationship is meant to be together and a marriage is meant to be together, that anything like a show or being in this industry can change that."
Ashlee headlined MTV's The Ashlee Simpson Show between 2004 to 2005, which documented her relationships (fellow musician Ryan Cabrera was her BF in Season 1), the recording of her debut album Autobiography, and rise to fame following its release. The show only lasted two seasons, but I personally have fond memories of watching Ashlee navigate celebrity, her early 20s, and staying true to her artistic self. I personally think it's an overlooked member of the crowded 2000s reality TV show roster (shout out to Chaotic, Rich Girls, and The Simple Life), though I think we can all agree that "Pieces of Me" is still a bonafide banger.
Reality is somewhat a family business for Ashlee, considering her pop star sister Jessica became a TV superstar thanks to her "chicken or fish" antics on the mid-2000s hit Newlyweds: Nick and Jessica. Jessica went on to become an actress fashion mogul force and has mostly stayed off of television, aside from a short-lived gig as a judge on NBC's Fashion Star. Ashlee did the acting thing too, taking on a starring role in the CW's 2009 reboot of Melrose Place. She even appeared on Broadway as Roxie Hart in Chicago. As for her personal life, Ashlee married Fall Out Boy's Pete Wentz in 2008 and they welcomed their son Bronx the same year. The pair split in 2011.
Now it appears Ashlee's focused on her next chapter with husband Evan. "We're working on an album together. So in the new year, that will be happening! It's been really fun to work together," she revealed to Us Weekly in 2016. Ashlee last release was her third album, Bittersweet World, which came out back in 2008.
14 years after The Ashlee Simpson Show and a few life milestones later, Ashlee is ready to show you her world. She described Ashlee and Evan to Access Hollywood, explaining,
It's a look into our lives. You're getting to know where we're at in our lives. We're both parents and we're making music. And you kind of get a look at all those different elements and kind of discovering how to balance life and all those elements. For me, I've taken... you know, a 10 year break just being a mom. So now I'm getting back into music and getting into it with my husband we kind of take you on that journey...
With a '90s and early 2000s entertainment resurgence in full swing, it seems like the perfect time for Ashlee to make a musical comeback and return to reality television.