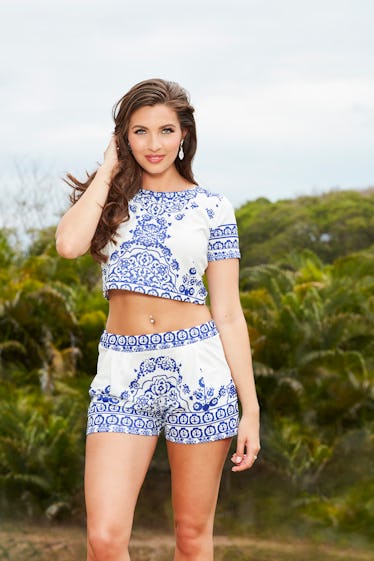 Here's Everything Bachelor Nation Should Know About Angela Before 'Paradise' Airs
ABC/Craig Sjodin
Along time ago in a galaxy far, far away (OK, a Malibu-adjacent mansion), Angela Amezcua competed on The Bachelor. It was actually only early 2017 but it seems like forever ago in reality TV years, and now she'll be back in the Bachelor universe. Who is Angela on Bachelor in Paradise? The alum from Nick Viall's season was recently announced as a cast member for Season 5 of the summertime spinoff, so you might be in need of a referesher.
Don't feel bad if you can't quite remember Angela's journey — she was eliminated in the first episode of Season 22. Angela is a model from Greenville, South Carolina. Bachelor Nation didn't have enough time with her to learn much about what's up on a deeper level (her bio says she can't live without "lip balm, water, hair tie, iPhone" and her "mom," so that's something), but perhaps they'll get a better understanding of who she truly is when BIP kicks off.
It appears Angela is still doing the modeling thing and she calls herself "the luckiest aunt in the world" on her Instagram bio. She has not appeared on any Bachelor shows since her short-lived stint last year. Welcome back, girl!
Following her Bachelor elimination, Angela spoke out about her experience on the show and why she felt she didn't get a rose that crucial first evening. She opened up on The E&G Podcast:
That night is just such a blur and it's so much going on and you're talking to all these new people and you're trying to get time. And after you talk to him, if you're lucky enough to talk to the person, it's kind of out of your control. I was a little bit surprised but then I kind of felt it too.
She went on to say that she's not "salty" about how the premiere played out and believes things happen for a reason. Hmm. That reason very well be she was destined to go on Bachelor In Paradise a year and a half later. Angela also revealed she barely had any one-on-one moments with Nick, which might explain their immediate lack of connection.
Angela added during the same podcast interview that she kept in touch with a lot of the girls from the show following her exit.
"Astrid is really awesome," she noted specifically, which is a plus because Astrid was also just unveiled as a cast member for Season 5 of Paradise. At least Angela has one friendly face by her side.
"All of the girls and everyone I've met from this Bachelor experience have been so overwhelmingly nice. It's just so awesome and I don't regret doing it one single bit," Angela remarked.
It appears she spent some time with Jonathan "Tickle Monster" Treece from last season of BIP back in September.
Angela also expressed interest in competing on Bachelor in Paradise, calling the concept more of a "level playing field."
Now that Paradise is a reality, the world will find out soon enough if Angela hits it off with any of the show's eligible bachelors. Perhaps she'll find common professional ground with fellow model Jordan Kimball? She's said she's always been attracted to athletic guys, so maybe pro-wrestler Kenny or Winter Games victor Kevin is more her type... You never know.
On Angela's Bachelor contestant profile she said saw herself as "Definitely married, have one kid so far. Be a stay at home mom. Still model some if possible. Enjoying life with my family" in five years. Who knows? Maybe she'll find her match in Mexico...
Bachelor in Paradise premieres Tuesday, August 7 on ABC.