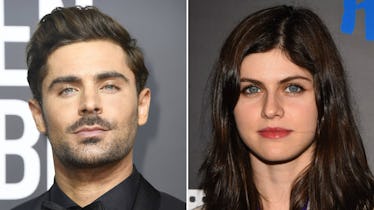 Zac Efron Is Rumored To Be Dating His Co-Star & She's The Total Package
Frazer Harrison & Araya Diaz/Getty Images Entertainment/Getty Images
If you haven't heard the tragic news yet, I'm going to give it to you straight: Zac Efron is reportedly dating someone, and no, it isn't me or you. Rumors are circulating Efron is getting cozy with actress Alexandra Daddario, and fans are freaking out. So who is Alexandra Daddario? And how did the lucky lady score this man? Well, Efron and Daddario played love interests in their film, Baywatch. Need I literally say more? Sure, neither Daddario nor Efron have confirmed anything, but I know what a few months filming on a beach does to a person.
Daddario is a 32-year-old actress who you've definitely seen in a few of your favorite films and television shows. She's appeared in cult favorites like Always Sunny In Philadelphia, American Horror Story, and True Detective, and is most known for playing Annabeth Chase in the Percy Jackson film series. However, she and Efron know one another from spending their days filming on the beach and running around in their bathing suits on the set of Baywatch.
While there isn't too much circulating about her personal life, I did some deep diving into her Instagram and learned a few things: She loves her dogs, she's real life buds with Dwayne "The Rock" Johnson, and she doesn't take herself too seriously. Those are all of the key ingredients to become a true winner in my book, and apparently, Efron agrees.
On Friday, March 16, he posted a sweet birthday tribute to Daddario on Instagram next to a smoldering picture from a night out together. He wrote, "Happy birthday to one of the most real, down to [Earth], stunning, intelligent, creative, loving, and most rare Pokémon ever created #alexdaddario."
WE GET IT. BOTH OF YOUR EYES ARE VERY PIERCING.
This photo is almost nothing compared to an intimate picture Efron shared of Daddario in a hotel bed. He captioned that image, "#tbt Baywatch press. Smile. It's contagious. [smiley face emoji & camera emoji] credit me."
Though we can clearly see another human is in the room with them, it's still a bed picture... know what I mean? It's specific.
During said Baywatch promotion in 2017, Daddario spoke with E! News about the romance rumors between her and Efron. She said,
We work together closely; he's my love interest in the film. I understand why people would go crazy over something like that, but Zac and I are very good friends... We would have very blue-eyed children, wouldn't we?
Uh... YUP.
A source told People magazine the two are playing the on-again, off-again game, which we all know is code for "Sorry, Jamie. You don't really stand a chance." The insider said the two have been "on and off since their time working together on the movie last year, but they are not officially dating." I'LL BELIEVE IT WHEN SHE STOPS SITTING ON HIS LAP, OK?
Despite the very obvious fireworks Efron has with Daddario, the actor once said dating is not for him. After his latest breakup in April of 2016 with ex-girlfriend Sami Miro, he told The Times,
Dating is something I'll never be able to do. As in the dictionary definition of dating, because one way or another I've impacted that person's life and they'll soon realize it. A date has to be very long to dispel whatever people think about me.
I don't know what that means, but it's provocative.
Though I hate to admit it, these two do make one freaking cute couple. There's no denying their eyes and face symmetries basically belong together. I just hope whatever happens next with my fake-boyfriend Zac, I don't have to find out about on social media.
That hurts, Zac.
Check out the entire Gen Why series and other videos on Facebook and the Bustle app across Apple TV, Roku, and Amazon Fire TV.