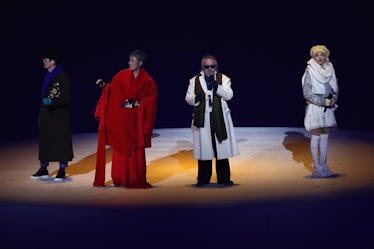 This 22-Year-Old Korean Singer Slayed "Imagine" At The Olympics Opening Ceremony
Jamie Squire/Getty Images Sport/Getty Images
One of the most memorable parts of the Olympics usually comes before anyone has received a medal. As seen at the 2018 Winter Olympics opening ceremony on Feb. 9, musical performances from prominent South Korean artists helped kick off the Games in an energetic and unique way. At the ceremony, Ahn Ji-young of duo Bolbbalgan4 performed "Imagine" by John Lennon, as part of a fittingly collaborative performance alongside singers from other bands, and their set definitely helped the Olympics start off on the right foot. But for those of us not familiar with Korean music probably need a refresher on exactly who Ahn Ji-young is.
Reports of Ji-young's scheduled performance first hit South Korean news outlets in late January, according to Billboard, despite Olympic officials' efforts to keep the opening ceremony performers a secret. The 22-year-old singer, known for her Bolbbalgan4 partnership with Woo Ji-yoon, shot to fame in South Korea in 2016 after she and 22-year-old Ji-yoon debuted their single "Fight Day."
However, instead of performing the hit alongside her usual partner, Ji-young sang "Imagine" at the Olympics opening ceremony, alongside Ha Hyun-woo from Guckkasten, Jeon In-kwon from Deulgukhwa, and solo artist Lee Eun-mi. You can see part of their performance in the video below.
Ji-yoon donned a white dress covered in silver stars with matching knee socks and a scarf for the chilly weather in PyeongChang, and topped it all off with a fuzzy yellow hat.
If you want a sense of what Ji-yoon sounds like when she's part of Bolbbalgan4, you can listen to their hit "Fight Day" below. The song is lighthearted and sweet, not unlike some of our favorite nostalgic hits from former Disney stars.
The vibes of "Fight Day" also fit the alternative English names of the duo, Blushing Youth and Bolppalgan Puberty. Blushing Youth derived from guitarist and backup vocalist Ji-yoon being shy and Ji-young having youthful qualities, according to South Korea's Yonhap News. They just scream of being sweet Radio Disney starlets so much that I want to wrap them in blankets and give them hot cocoa.
In an interview with Yonhap News, Ji-young and Ji-yoon recalled how they first met in high school, right outside of Seoul, and formed a four-person band that often performed in other villages' school festivals. The two wrote songs based on their own teenage experiences, but Ji-young had to put extra effort in persuading her mother to allow her to pursue this path. She told the news outlet,
My mother put a strong emphasis on my studies — she even came to get me when I ran off from boarding school to sing. In the end she let me go for my dreams so I could sing full time...I may not be old enough to teach anyone, but I'd really like to tell them, 'Go try whatever you want to do, except for crime.'
The young women's control of their work is apparently a rare exception in South Korea, as Yonhap reports,
Bolbbalgan4 is a unique case for the Korean pop market. It's an indie pop duo armed with a girl group ambiance. Emulating the pure, sprite-like concept of a typical K-pop idol group, the two are fully in charge of composing and writing their songs.
This dominance of their career path first began when Ji-young and Ji-woon made multiple appearances on the Korean competition show Superstar K. Following their televised performances, they were bombarded with several offers from recording company. Their ultimate pick, Shofar Music, has a history of working especially with singer-songwriters.
She may have reached national superstar status in her early twenties, but a peek at Ji-young's social media proves that she's just as ordinary as the rest of us. Her Instagram photos from the past few months include a cute dog, Chipotle, and even a Kylie Jenner lip kit.
Stars — they're just like us!
Except, you know, that they get to perform at the Olympics opening ceremony.