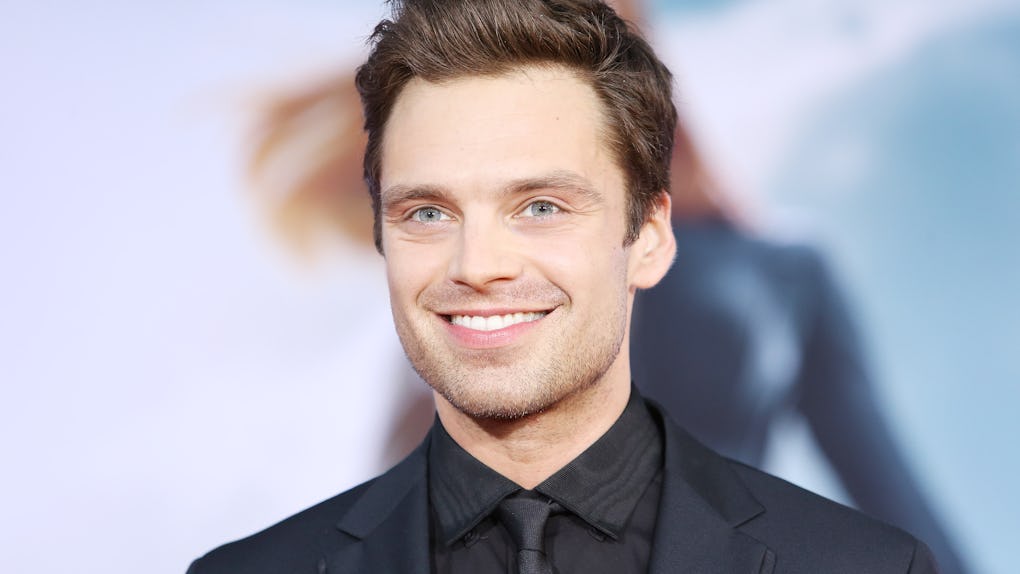 Michael Tran/FilmMagic/Getty Images
Who Has Sebastian Stan Dated? His Relationship History Proves He Has A Type
After stealing fans' hearts as Carter Baizen on Gossip Girl, Sebastian Stan really rose to fame after landing the role of Bucky Barnes in the Marvel Cinematic Universe. And now that Bucky has come to the small screen in The Falcon and the Winter Soldier, fans are more eager than ever to learn about Sebastian Stan's relationship history. Like his on-screen character, Stan's past is more than a little mysterious, but he's definitely romanced his fair share of ladies over the years, including several co-stars. His most recent rumored love interest: Normal People star Daisy Edgar-Jones.
Not long after news of Edgar-Jones' split with her long-term boyfriend Tom Varey broke, the actor was reportedly seen hanging out with Stan in Vancouver while filming their forthcoming movie Fresh. "Daisy and Sebastian seemed very friendly and were constantly laughing," an onlooker reportedly claimed to The Sun in March 2021. "He seemed very taken with her and touched her arm a lot." Though the two have yet to comment on the dating rumors, fans are intrigued by this possible new romance — especially since Stan definitely has a thing for co-stars. Here are the other lucky ladies the MCU star has wooed over the years.
Leighton Meester, 2008-2010
Stan reportedly met Leighton Meester on the set of Gossip Girl back in 2007. By the following year, rumors started swirling that they were together when a source reportedly told Page Six that the two actors "couldn't keep their hands off of each other" while having an industry dinner. Then, in 2009, Stan told People that the best part about working with Meester is that he gets to "go home with her" after the director yells cut, making their relationship status clear.
For a while, everything seemed to be going well for the two — especially after Stan bought Meester a custom-made painting for Valentine's Day in 2009. "He told the artist about me, my favorite colors and poetry and she painted a large very special abstract work I have hanging in my dining room," Meester told Buzznet at the time, per Us Weekly. But in April 2010, the couple ended up calling it quits.
A source reportedly told OK! magazine that Meester broke up with the star because she didn't "know how to be in a relationship and doesn't really like them." In fact, Meester later told Seventeen that being in a relationship wasn't really her style. "I've never really liked anybody before," Meester explained in January 2011. "Even when I would date guys, it would sort of be on the surface and it was always a relief when we broke up."
When asked about her breakup with Stan, Meester said, "I've only had one experience where it was really hard and I was really sad when it ended, but that's what taught me a lot about myself and love and life – and that's good." Sounds like things with Stan ended well at least.
Dianna Agron, 2011-2012
In 2011, Stan and Glee star Dianna Agron were rumored to be dating. Reportedly, a couple of onlookers saw Stan spend some quality time with the actor after her Glee performance in June 2011 at the Staples Centre in Los Angeles. "He waited for her backstage," an eagle-eyed fan told Us Weekly at the time, per Marie Claire U.K. "Once the cast finished the show, Dianna ran backstage to Sebastian, and they were all over each other!"
However, the duo reportedly separated in December 2011, as the distance reportedly became too tough. "She was always worried that he was cheating on her while he was away filming, but he never would!" an Us Weekly source reportedly claimed at the time. The maybe-exes briefly sparked reconciliation rumors in February 2012 after they reportedly spent Valentine's Day together, but little else was heard about the two after that.
Jennifer Morrison, 2012-2013
Stan and Jennifer Morrison reportedly started dating in the summer of 2012, per The Daily Mail. During that year, they both starred in the hit ABC series Once Upon a Time, where Stan played the Mad Hatter and Morrison portrayed Emma Swan. But after just about a year of dating, the pair reportedly went their separate ways in the summer of 2013.
"They just grew apart," a source reportedly claimed to Us Weekly in November 2013, noting that the two reportedly split four months earlier. "[There's] no bad blood." You love to hear it.
Margarita Levieva, 2014-2016
It's unclear when Stan and Margarita Levieva first met each other, but in 2009 they did share the big screen in Ashton Kutcher's rom-com Spread. However, rumors of them being a couple didn't start swirling until July 2014 when Us Weekly reported that they were together. "They've been friends for a while," a source reportedly claimed to the magazine. "They're having fun together and seeing where it goes. They're both very art-minded and thoughtful people."
The two reportedly dated for about two years before Levieva was reportedly spotted looking cozy with Joshua Jackson in September 2016, leading fans to believe she and Stan had gone their separate ways.
Alejandra Onieva, 2020
Daisy Edgar-Jones, 2021
Although Fresh co-stars Stan and Edgar-Jones have yet to confirm whether they're dating, The Sun reported that the rumored couple has been getting very close on set. "Sebastian has told friends that he thinks Daisy's a bright spark and set for a massive career in Hollywood," a source reportedly claimed to the publication. "He can't believe she's so young as she's so talented and mature. They get on really well." I guess we'll just have to wait and see where their relationship takes them.
As much as I would have liked to see Edgar-Jones get together with her Normal People co-star Paul Mescal, I definitely don't hate the idea of a romance between her and Bucky Barnes.