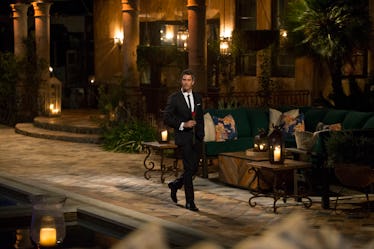 Here's Who Stole Arie's Heart & The First Impression Rose On 'The Bachelor'
ABC/Paul Hebert
The night we've all been waiting for has finally arrived. The Bachelor Season 22 is here, and once those stretch limos start to roll up to the mansion, you know it's officially on. After months of #BachelorNation anticipation, the 29 ladies competing for Arie Luyendyk Jr.'s heart made their introductions, but who got the first impression rose on The Bachelor premiere? One lady in particular definitely had an effect on Arie.
From the moment Chelsea Roy stepped out of the car to approach Arie, it was clear the leading man was immediately taken by her. No awkward hug. No gimmicks. No toy car race. No costume. She's just a girl standing in front of a guy, asking him to give her a rose so they could continue to get to know each other in front of America. Ah, romance.
But their initial interactions certainly didn't stop there. Arie may have to give up his title of "The Kissing Bandit" and give it to Chelsea, because she managed to steal a smooch on the first night. Let's just say the 29-year-old wasn't going for a wallflower "play hard to get" approach when it came to getting Arie's attention. Chelsea made her presence known right off the bat by offering him a drink and making sure she got more than enough time with him. "I want to get to know him quickly," she said of her attitude towards the process. "This momma means business," she later added.
Naturally — since this is The Bachelor and aggressive time-stealing is frowned upon by other contestants not getting their precious one-on-one moments — Chelsea's behavior wasn't embraced by the other ladies. Her extended Arie time raised some eyebrows, sparked some side eye, and ignited serious drama. "That's kind of disrespectful," remarked Krystal about Chelsea's attitude after she got interrupted.
But just because the women in the house aren't fans of someone's actions, doesn't mean the guy in charge of those coveted roses is (or even notices there's any issue). All of Chelsea's efforts were met with perhaps the single most important goal of the evening: The First Impression Rose. That means you stood out! That means you don't have to wait in an uncomfortable gown for your name to be called! That means you can breathe easy and relax. For now. Congratulations, Chelsea!
"I think my job is done and hopefully he's able to carry out his," Chelsea explained after she went in for more time and got a kiss in the process. Well, looks like her strategy worked.
"I want to give it to someone who has shared their story with me," Arie said of how he was going about picking the lucky lady.
Sure — the First Impression Rose is something to feel good about, but does it statistically prove anything about one's chances at winning? A few First Impression Rose holders from the franchise have actually gone on to be the last man or woman standing. Hmm. Does love(ish) at first sight actually exist? Catherine Giudici got the prized possession from Sean Lowe and they're still together to this day and expecting baby number two. Kaitlyn Bristowe gave hers to Sean Booth and JoJo Fletcher gave one to Jordan Rodgers. Most recently, Rachel Lindsay handed hers to Bryan Abasolo and... you probably know the rest.
Chelsea is a single mom from South Portland, Maine. "I am mysterious, but I think that's what keeps me interesting," she told Arie during their alone time. "Chelsea's very good at just leaving me wanting a little bit more," Arie explained. Hmm.
Even if she didn't exactly hit it off with the other women in the house (it's not about that, is it?), she sure caught Arie's eye.