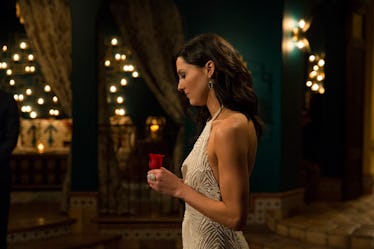 Here's Who Becca Sent Home On Week 1 Of 'The Bachelorette'
ABC/Paul Hebert
Let's do the damn thing, Bachelor Nation. After weeks of waiting, fans finally got to see Becca back in action as the Bachelorette, and it was every bit as amazing as I hoped it would be. Despite Becca's cool-girl vibe, the first week was not without some drama. Who goes home on The Bachelorette Week 1? Becca sent home 7 guys on Monday night's episode, which sounds like a lot, but really, it just means we're that much closer to learning who Becca is engaged to. Let the drama begin, Bachelorette fans!
This is Season 14 of The Bachelorette, so by now, we know the drill. Becca met everyone for about ten seconds, and after some schmoozing, she sent home the guys she didn't feel a spark with. After ABC gave fans a quick recap of Becca's Arie-induced heartbreak, the limos began rolling in, and boy, did those dudes make a first impression. Becca met an NFL player, plenty of aspiring entrepreneurs, a colognoisseur (because if there was a "colognoisseur" out there in the world, The Bachelorette producers would find him), and a dude in a chicken suit, so all in all, I'd say it was a good first night in the mansion.
But you know who didn't have a good night? The seven dudes Becca sent home. Here are the guys who didn't snag a rose on Week 1 of The Bachelorette:
Kamil, a "social media participant" (yeah, IDK either) from Monroe, New York.
Christian E., a banker from San Diego, California.
Joe, a grocery store owner from Chicago, Illinois.
Chase, an advertising VP from Sanford, Florida. Good for Becca for getting rid of someone who would surely cause drama.
Darius, a pharmaceutical sales rep from Sherman Oaks, California.
Grant, an electrician from Danville, California.
Jake, a marketing consultant from Minneapolis, Minnesota.
Now, about Jake. Much of the first episode focused on Jake, who shares a hometown with Becca and possibly... a past? Before the Season 14 premiere aired, host Christ Harrison teased that Becca and Jake have history:
Jake and Becca have a past. Now, they have different versions of this past. You'll learn more about that, of course, as the show goes on.
Well, it looks like Bachelor Nation learned pretty much all there is to know, because during the cocktail party, Becca pulled Jake aside and set the record straight. She revealed that they've hung out multiple times with mutual friends (Minneapolis can't be that big, and pretty people attract pretty people) and that neither of them have ever shown interest in the other. Jake started to say that they've only met once before "at a Christmas party," but Becca shut him down and said that if they've never clicked before, it won't happen now. In order to save both their time, she sent him home right then and there.
Go Becca. I'm super into her no-BS attitude. The whole Jake thing definitely would have caused drama in the mansion — especially if he went around pretending like he had a legit relationship with her in the past, which I wouldn't put it past him to do. If Becca keeps up the down-to-earth vibe, she may become my favorite Bachelorette ever.
Sending Jake home before the rose ceremony even began was a big shocker, but I was also surprised to see that two of the guys Becca sent home appeared on the After the Final Rose special. Chase and Darius both seemed to hit it off with Becca when they first met back in March, so I was pretty shocked to see that their connection didn't last. Maybe I'm naive, but I kind of thought that the five guys who showed up on After the Final Rose were safe for at least a few weeks.
With the departure of those seven dudes, Becca now has 21 men competing for her heart. That's still a lot of men, so expect more cuts in the next few weeks. Best of luck, guys!
The Bachelorette airs at 8 p.m. ET Mondays on ABC.