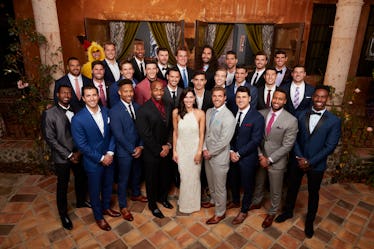 These Tweets About 'The Bachelorette' Premiere Perfectly Sum Up Everyone's First Impressions
ABC/Craig Sjodin
It's finally happening! After a very public breakup, it's Becca Kufrin's turn to "do the damn thing" — get used to it, people — and step into The Bachelorette spotlight. Arie who?! Even though there are references to her notorious former fiancee (come on, you didn't think they wouldn't address that whole thing?), Becca is on the road to finding her everlasting love. So, what's the Bachelor Nation verdict on the season's opener? These tweets about The Bachelorette premiere should give some fan insight.
"I'm so confident to be The Bachelorette now. I know it works. I did fall in love and I feel like it could happen again. I'm not gonna let that past heartbreak from getting what I want," Becca said at the start of the premiere as footage rolled showing off her sweet aerial yoga skills. Dang. You tell 'em, Becca.
As to be expected, Season 14's first episode gave viewers a chance to reflect on Becca's journey prior to the show, hang out with former Bachelorettes to receive advice and sage the mansion (hey, Kaitlyn, JoJo, and Rachel!), and get to know her potential suitors so she could promptly narrow them down. And Bach Nation was here for it. Some of it.
Becca's already revealed that one of these 28 men is currently her fiancee (unless there's a total rogue twist and she's engaged to someone else), so at least the audience knows they're meeting her hubby-to-be for sure.
OK, let's talk first impressions. Trent pulled up in an hearse, there was a GOSPEL CHOIR, a live ox, and and more than a few shout outs to the now ubiquitous catchphrase "let's do the damn thing." Plus, a Chris Farley impression from Garrett, and Jean Blanc giving audiences some information on what the heck a colognoisseur really is.
"Tonight is exceeding my expectations," Becca confessed. "I'm honestly having a blast." Well, that's promising!
After watching everything unfold so far, it's kind of a relief to know Becca is happily on her way to the alter with one of these suitors.
"I am engaged!" Becca told People earlier this month. "It was the happiest moment of my life. And it feels so good to say it. I still pinch myself, like, did that all just happen? It's been a whirlwind."
"I can tell you today that Becca is indeed happily engaged! I can't tell you who it is but here's a hint... It's a human man," Chris Harrison then confirmed via Instagram. So, it's not chicken suit guy? Or is it...
Becca even admitted that she fell for two men during her time on the show, but I don't think she's at risk of pulling an Arie anytme soon.
"I did develop really strong feelings for a couple of them and I did fall for two guys at the end, yes," Kufrin told Entertainment Tonight prior to the premiere.
"Until you're in this position, you don't realize how much pressure there really is, and how difficult it is to navigate certain relationships," she explained of the process.
"I say awkward things at awkward times, but that's just me. I can laugh at it all and just go with the flow and have fun," Becca also stated to ET. "At the end of the day, I never want to take myself too seriously."
Becca's season is off to a, shall we say... interesting start. Let the journey officially begin. Here's to a self-proclaimed "awkward" leading lady who can laugh at herself and all the ridiculousness that's sure to come.