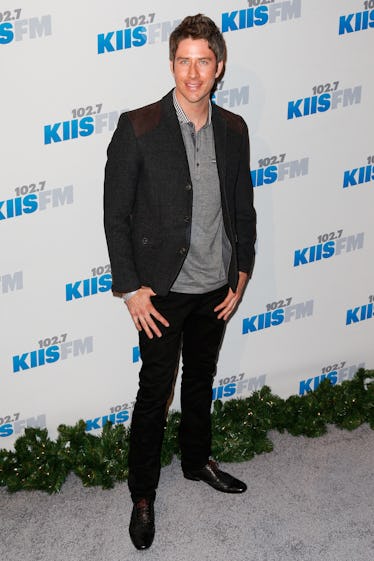 Arie Sent Home 3 More Girls On 'The Bachelor' & Things Are Getting Dramatic
Imeh Akpanudosen/Getty Images Entertainment/Getty Images
And then there were 10. That's right — Arie Luyendyk Jr. sent another three women packing this week on The Bachelor, after the crew hit up the sunny shores of South Florida for a very special spring break edition of our fave reality show. Just kidding. It's wasn't actually spring break. Or all that special. Because despite the dreamy vibe of the setting, the contestants spent most of their time in a bowling alley (say what?) and by the episode's end, three of them split with nary a consolation prize. So who went home on The Bachelor Week 5?
One of the unlucky ladies was Maquel, who left early last week after she found out her grandfather had died. She returned at the beginning of this week's episode and was axed by Arie at the end, but at least she got a week's vacay in sunny SoFla amiright?
You know who else got sent home? Marikh, who you may recall, is the The Salt Lake City-based restaurant owner who got glam-shamed last week by Chelsea for touching up her hair while hiking. The whole thing was all kinds of epic because 1) who knew glam shaming was thing, and 2) OMG Chelsea, how dare you?
A quick refresher: After Arie sent Caroline and Brittany home in Week 4, we were treated to an awesome post-credits moment. See, Chelsea busted Marikh for using a compass as a mirror — so brilliant, girl! — on a group date, then went and told Arie all about it. Because there is only one winner, people, and this is ammunition!
Arie then told Marikh what Chelsea — who got of the one-on-ones this week, BTW — told him. And, like, really, Arie? My third grade cousin said to tell you she wants her game of telephone back. Anyway, Marikh then hunted down the single mom and went off. By which I mean she gave the world what is now my new favorite Bachelor exchange ever. I don't think I can do it justice in mere words here, so please just watch:
Have you ever seen anything this amazing? So yeah, Marikh got sent home. Goodbye, you gorgeous glam goddess!
Of course, the 27-year-old sometime model wasn't the last lady to hit the road that night. Arie also cut Ashley Luebke — the 5'7" brunette beauty who's been flying under-the-radar, and who is actually from South Florida. Luebke lives in West Palm Beach, just a 45-minute drive from Ft. Lauderdale, so I gotta wonder if this was all just a logistics thing. Well, she does live right around the corner so we could save money on the flight...
The thing is, Ashley and Arie just seemed to have so much in common. For one thing, they are both real estate agents. And for another, they have the same freaking initials! So many missed opps here — I mean, we could have called them AL2, or AL-squared, or A.Lu-times-two, which is admittedly kind of wordy but still my personal favorite.
Thanks a lot, Arie.
At least it appears that the Thandie Newton-lookalike formed a new #GirlSquad during her time on the show.
And yes, that's Marikh right there, so here's hoping the two of them met up at Ashley's house after getting booted for a major glam sesh, though it kind of seems unlikely since Ashley has been heralded for wearing minimal makeup on the show. Oh, the irony!
Luebke even sent out a tweet about her no-makeup makeup approach on Jan. 23.
TBH, bathing in makeup kind of sounds awesome. And while we're on the subject of Twitter, I wish I had been paying closer attention to Ashley's feed, because our girl dropped a major clue about her dismissal a few hours before the episode aired:
"When you can't wait for all of the drama on tonight's episode of #thebachelor," she wrote. Seems harmless enough right? But it's Ashley's choice of emojis that tell the real story here, guys, so go back and take another look.
Well played, AL. Well played.